AV-CANADA Announces Expansion into U.S. Market with the launch of AV-AMERICA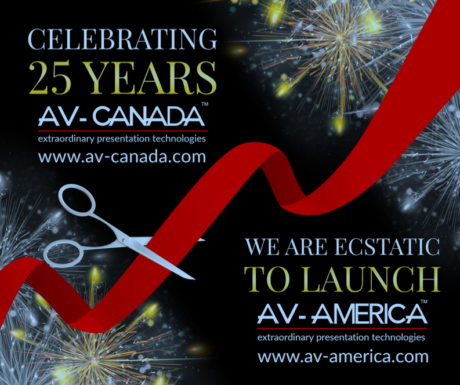 TORONTO, CANADA, – AV-CANADA is proud to be celebrating 25 years of business! With drive, perseverance, and ongoing success come exciting growth opportunities. We are pleased to announce our new endeavor AV-AMERICA, headquartered in Orlando, Florida.
More details from AV – Canada US Website (www.av-america.com):
Heading the operation in North American as Chief Operating Officer for AV-America, Kip Cade
brings 25 years of experience in the United States AV business, guaranteeing the same quality and service standards that you have come to expect. "With this new venture, we have the opportunity to further expand the capabilities of AV-CANADA into new markets and leverage the established presence of our U.S. team. Together, we have the ability within our industry to deliver top-notch service to all of our clients throughout North America.", said Kip Cade.
Also joining the AV-America team, we are pleased to introduce Rita Plaskett CMM, CMP who will head up our Business Development team. Rita will serve as Vice President of Business Development. She brings over 30 years of meetings experience including a past tenure on the MPI International Board of Directors and currently sits on an MPI International committee. We welcome her vast network of Global Industry peers.
In addition, we welcome Yolanda Clark as Managing Director of Marketing and Community Engagement. Yolanda, is widely recognized for her many years of public relations experience, community engagement within the Greater Orlando area and a strong network of industry peers across the state of country.
Please join us in congratulating our new team at AV-AMERICA! We are pleased to welcome them to our family of award winning services and professionals. Whether your next meeting or convention is in Canada or in the USA; we now have you covered. We will be pleased to supply you with our superior service and our inherited culture that is focused on your success. See more at our new website.
Leave a Comment: