Ayrton will be exhibiting at PLASA with its exclusive UK distributor Ambersphere Solution on Stand K40b.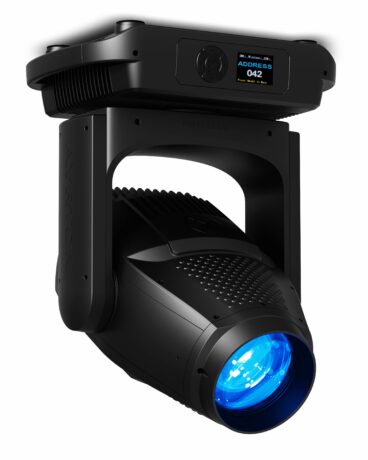 FRANCE – Founded in 2001, Ayrton's innovation and longevity will be instantly evident in the examples on display from the Ayrton timeline which will appear alongside some of its latest innovations, Khamsin, Bora, Mistral and Levante. Meanwhile, excitement is building for the official launch of Ayrton's two latest products: Perseo and Huracán-X which takes place at Olympia.
More details from Ayrton (www.ayrton.eu):
PERSEO
Perseo is Ayrton's first multi-function, compact, powerful, IP65-rated fixture developed for intensive outdoor use. Feature rich from the factory (including 100% framing shutters), Perseo produces 27,000lm from its 500W LED source, and sports a fully weather-proof housing with a new water-resistant menu navigation system to handle whatever the weather can throw at it!
Extreme optical efficiency
Perseo-S has been designed to achieve an optimal resolution-to-performance-to-efficiency ratio with perfect image reproduction. Not only is its 27,000 lumen output calibrated at 8000K, but it also offers a zoom range of 7° to 56°, with no hotspot and significant improvement from distortion at wide angles.
Built to withstand the elements
Perseo-S new minimalist design incorporates full weather-proofing features that ensure easy accessibility, including a highly effective phase-change liquid cooling system fitted with four submersible fans located outside the watertight enclosure and a new water-resistant menu navigation system.
Fast on its feet
Formed from die-cast aluminum, Perseo-S weighs in at under 40kg, yet is the quickest moving light in the Ayrton range – a refreshing change from heavy, bulky outdoor units!
Feature rich from the factory
Feature rich as standard, with a wealth of effects and gobo options, and of course, 100% framing shutters, Perseo-S also boasts a subtractive CMY colour mixing system for perfect color mixing, a variable CTO and a wheel with six complementary colours that combine to produce an infinite palette of vivid pastels and saturated colours.
The framing section allows accurate positioning of four shutter blades on a 100% surface area in all positions, so that the user can frame any object regardless of the luminaire's position. The image section includes 18 interchangeable HD glass gobos on two wheels: one rotating wheel with seven positions and one fixed wheel with eleven positions. The effects section includes a continuous dynamic effects wheel; a 15-blade iris diaphragm; two frost filters, one soft edge, one hard edge; and two rotating prisms, one circular with 5 facets and one linear with 4 facets.
Perseo-S is the latest in Ayrton's new range of profile, spot and wash fixtures and the ultimate in versatility. Designed for the broadest range of applications, Perseo-S is the first moving light ever that is ideal for both indoor and outdoor use, due to its compact size, incredible output, light weight, ease of service and beautiful lines. It can be controlled by DMX-RDM, ArtNet™ or a wireless link using CRMX TiMo RDM from LumenRadio™.
Perseo-S is shipping with immediate effect. Contact your local Ayrton distributor for more information and a demonstration.
Watch the new video presentation of Perseo-S here: https://www.ayrton.eu/produit/perseo
HURACÁN-X
Huracán-X is a unique profile luminaire with some exceptional features. Huracán-X not only delivers exceptional light output as standard, but is a formidable new graphical tool possessing a wealth of features and an entirely new complex color mixing system capable of generating 281trillion colors.
Unbelievable output
Huracán-X produces a record output of 50,000lm from its 1000W LED source, at a color temperature of 6500K. A triple variable color temperature corrector allows subtle adjustment from 2700 K to 15000 K and offers noticeable CRI improvement. Specifically developed optics deliver an extremely uniform flat beam with no hot spot for the reproduction of high-definition images, and a zoom range of 6.2° to 62°. Huracán-X also offers Ayrton's advanced framing shutters for accurate positioning across 100% of the surface area in any position.
Advanced color mixing system
It is the new advanced color mixing system (patent pending) that really makes Huracán-X stand out in the crowd. A CMY, CTO, CTP, CTB subtractive system gives the user complete control over the color palette. Designers no longer have to use different fixtures to achieve perfect pastels or optimum saturated colors. Both can now be obtained within a single fixture with Huracán-X.
Huracan-X's amazing color mixing system also alleviates the challenge of color fringing which traditionally occurs in moving lights when using pastel colors in combination with gobos or framing shutters.
Fabulous graphical capabilities
Designed to project complex graphical effects, Huracán-X boasts an amazingly complete graphical system with one 7-position wheel for interchangeable effects cassettes or gobos, fitted with 5 rotating gobos and 2 effects cassettes, that can create dynamic effects by superimposing two complementary inverted images in counter rotation. A second interchangeable gobo wheel is equipped with 7 rotating gobos; a monochromatic multi-position effects wheel allows horizontal, vertical or axial scrolling for creating flame, water or radiant effects; a multi-layer CMY wheel enables the generation of multicolour effects. Additionally, standard features in Huracán-X include a 15-blade iris diaphragm, a light and a heavy frost filter, 2 rotating prisms, a 5-facet circular and a 4-facet linear prism.
Huracán -X's graphical possibilities have to be seen to be believed and the exciting, unique new fixture will be ready to ship from September. Come and see for yourself on stand K40b or contact your Ayrton distributor now to book your own demo or find out more.
STOP PRESS: Huracán-X's exciting new demonstration video goes online 3 September. Tune in here to be the first to see it! https://www.ayrton.eu/produit/huracan-x
Leave a Comment: