Blackberry Farm Celebrates 2019 With Bandit Lites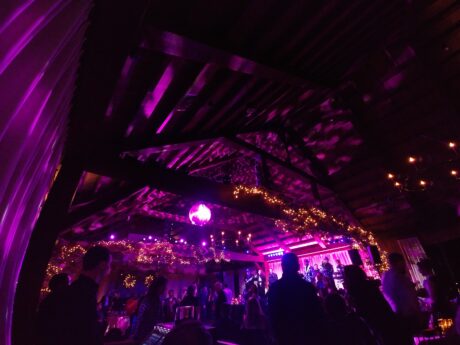 KNOXVILLE, TENNESSEE – Bandit Lites helped usher in 2019 at the world-famous Blackberry Farm luxury resort by providing a custom lighting package for their glamorous New Year's Eve soiree. Festivities at Bramble Hall included a live band and curated menus from their award-winning chefs.
More details from Bandit (www.BanditLites.com):
As the longtime lighting partner for Blackberry Farm shows, Bandit is accustomed to keeping things more understated and highlighting the elegant and rustic atmosphere of the facilities, but their New Year's Eve celebration gave the lighting team an opportunity to shake things up and infuse a bolder lighting package, including a 36-inch mirror ball over the dance floor.
"We use a quarter inch aircraft cable hung between the wooden beams to help maintain the illusion of the ball hanging in space," explained Bandit Lites General Manager Giff Swart. "We use GLP X4S units for their low profile, quick movement, punchy brightness with saturated colors and their ability to zoom."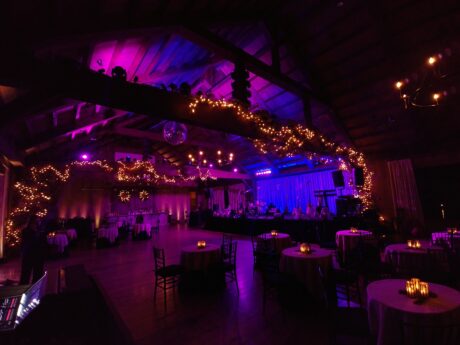 Bandit supplied GLP X4 Atoms as front light and to pin-spot the mirror ball, which when combined with the X4S, produced a spectacle of snowflake reflections simulating a swirling snowstorm. Bandit also provided Chauvet Freedom Pars around the room along with Chauvet EZ Wash fixtures with color-correction to pin-spot the various bars, tables and party favors. Finally, for the pièce de resistance at midnight, two confetti cannons blasted confetti on to the dance floor for a solid twenty minutes.
"As with all the events at Blackberry Farm, there is always a deep appreciation for the most minute details," finished Swart. "We strive to make both the space and the event beautifully lit while keeping the lights and all of the supporting infrastructure from being part of the spectacle. We have a great team made up of Alex Becker and Jamie Sullivan; Alex is great at knowing what needs to be done to make this happen and is a wiz at programming within these same parameters, while Jamie is tenacious and won't quit until the job is done."
Leave a Comment: