Christie Features New Technologies at Asian Attractions Expo 2018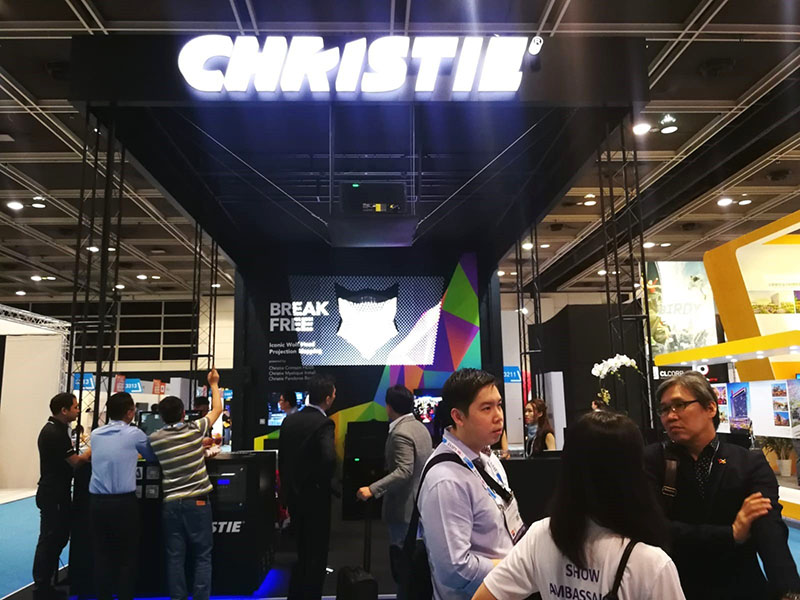 HONG KONG – Christie noted that it was exhibiting at the Asian Attractions Expo 2018, taking place at the Hong Kong Convention and Exhibition Center, June 6-8. The company is using the event to mark its global debut of major update to Christie Mystique Install. Christie is also using the show to mark the debut of its Crimson Series 3DLP laser phosphor projectors in the Asia Pacific marketplace.
More details from Christie (www.christiedigital.com):
At Asian Attractions Expo 2018 booth 3F3215, visitors can learn more about how the powerful combination of Christie's state-of-the-art visual solutions comprising hardware and software can enable entertainment designers, operators and owners to "break free" from conventional showpieces and embrace "creativity without limits" to deliver the most exciting experiences and draw in the crowds.
"The increased demand for themed attractions and related entertainment in the Asia Pacific region, coupled with changes in consumers' expectations over the years when it comes to entertainment, has prompted Christie to provide best-in-class innovations and support for partners and clients to deliver powerful visual experiences," said Sean James, Executive Vice President, Enterprise & Entertainment, Christie. "Our dependable suite of projection, image processing and auto-calibration software solutions are ready to help attractions industry professionals simplify the technical process so that they can focus on taking their creative ideas to productive fruition."
On show is a mesmerizing projection mapping demonstration on an iconic wolf head made possible using Christie Crimson HD25 3DLP laser phosphor projectors and Christie Pandoras Box Quad Server. This marks the official launch of the Christie Crimson Series in the Asia Pacific region since its introduction in late 2017. Designed to meet the special demands found in large venues, live events and high-usage environments, the 25,000 center lumens projector features an IP5X-sealed, solid-state laser light source in a rugged and compact chassis, as well as the enhanced color performance of Christie BoldColor Technology and the ultra-fast processing of Christie TruLife electronics.
Also making its global debut at the Asian Attractions Expo is a major update to Christie Mystique Install, a software solution that configures, aligns, warps and blends complex multi-projector arrays. Visitors to the Christie booth will see a demonstration of one of the new features in this major update. With Mystique Install – Large Scale Experience (LSE) Edition, recalibration of complex projection mapping on 3D surfaces now takes just a single click. It detects any changes in projector or camera positions and automatically corrects the blended image using a camera-based alignment system in only a few minutes. This significantly reduces maintenance and labor costs for 3D projection mapping projects, and eliminates both time and expertise needed to set up a complex system. With the Mystique Install – LSE, both partners and clients can continue to confidently work with Christie for all of their location based entertainment needs from idea to reality.
Besides the exciting booth showcase, Christie technologies are powering the visual contents of Falcon's Treehouse's and the Themed Entertainment Association's (TEA) booths at 3C1001 and 3D1340 respectively.
Known as the ultimate digital canvas for delivering amazing image quality, and vibrant, true-to-life colors in almost any shape and size, award-winning Christie MicroTiles are presented in a six tall and five wide array at Falcon Treehouse's booth to display a variety of highly engaging content that captivate visitors and turn heads.
Over at the Themed Entertainment Association's booth, a Christie UHD551-L 4K UHD LCD panel dazzles with amazingly rich visuals in 4K UHD resolution – perfect for digital signage applications in entertainment venues. This budget-friendly, plug-and-play display is also equipped with professional features such as an OPS slot, USB playback and round the clock run-times.
Organized by the International Association of Amusement Parks and Attractions (IAAPA), the annual Asian Attractions Expo is the premier international event for the multibillion-dollar leisure and attractions industry in the Asia Pacific region. An estimated 8,000 industry professionals from over 50 countries are expected to take part in the event, with a trade show floor showcasing products and services from close to 400 companies across all sectors in the attractions realm.
Leave a Comment: