Crescent Sun Media Server Launched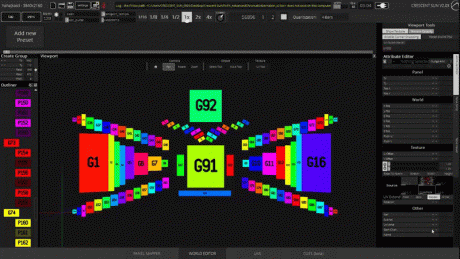 PORTLAND, OR –  It has been a busy few months for Imaginex, most notably because our Crescent Sun performance server is available for sale! To boot, Vello Virkhaus of V Squared Labs has joined our team with Ultra Music Festival as his premier client, and we've completed several exciting music festival and municipal projects.
More details from Imaginex (https://imaginex.co):
CRESCENT SUN LAUNCH
After years of building and testing, our proprietary Crescent Sun performance server was launched for public sale at the end of March. Previously only available to select clients, Crescent Sun introduces a new level of control and efficiency previously unseen in the media server market, and is fully customizable from our programming team.
SELECT FEATURES:
Single-Process Workflow: Design, previz, and operate your show in a single-process workflow
Individual Panel Control: Control up to 16,384 panels individually or with a lighting console using our video panel fixture profile (17 channels)
High Performance: Achieve up to 4x4k/UHD from a laptop w/ GTX1080 graphics.
Reusable Show File: Generative system architecture allows you to set up your show file once, then remap to most stages in minutes.
Open Architecture: Crescent Sun uses an open architecture system to allow advanced users to create custom modules and fx for their productions using the power of TouchDesigner™.
Pixel-Perfect Calibration: Zero dither, zero alias, content displays exactly as the client and designer want it to.
EPIC Integrations: EPIC by V Squared Labs has been the brains running some of the most innovative concert designs in live event history. We are rapidly integrating EPIC's tasteful approach to live show production in to the advance features of Crescent Sun's setup workflow.
Leave a Comment: