CUE conference registration now open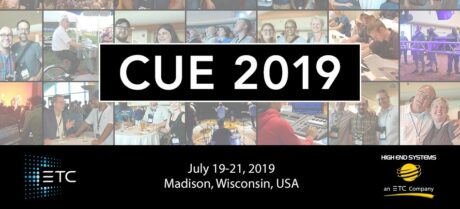 MIDDLETON, WI – Every other summer ETC and High End Systems host CUE, a professional development conference in Madison, WI. This conference is geared toward ETC and High End Systems live entertainment professionals of every level.
More details from ETC (www.etcconnect.com
This summer marks the fifth CUE conference and registration is now open.
For the first time this year, console training will take part as a pre-event to the conference, freeing up three days for additional breakout sessions, keynotes, masterclasses, and events. Register now for the pre-event console training, and then stay for the Backstage on CUE track that covers products, troubleshooting, maintenance, and system layout.
If you're already an experienced programmer looking to take your skills to the next level, register for the Eos on CUE or Hog on CUE tracks. Learn strategies to take your career to the next level of speed and efficiency and expand your approach to prepping and programming. Some of the best Eos and Hog programmers and developers in the world will be in Madison, Wisconsin for this event.
Register early, seats are expected to fill quickly! Early bird registration prices good through March 17th.
To read more and register go to www.etcconnect.com/CUE
Leave a Comment: