Enttec announces ELM v466 for Pixel Management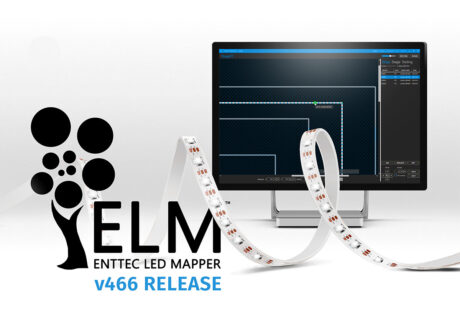 RALEIGH, NC – ELM v466 is here with some slick mapping workflow tweaks and new features perfect for the upcoming festival season, making ELM the best choice yet for controlling pixel arrays and video outputs with a lighting console.
70581 ENTTEC LED Mapper Firmware v466 • Map away!
Whether you use the expanded shape library or create your own, it's never been easier to create complex shapes. Split long strips into smaller sections without having to re-patch. Or make a perfect closed loop by simply joining together both ends of a custom strip.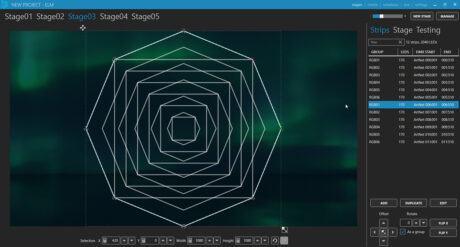 Editing is a breeze thanks to the new locate button which saves having to count LEDs. What's more, you can even import and merge stages or shapes from existing projects to save time and create new possibilities.
In addition to more new eye-candy effects, the effects engine has had an overhaul to allow parameters of each effect or live video stream to be individually manipulated in real time from a DMX source to synchronize your entire rig. Also send thumbnails or stream live LED previews to lighting consoles and visualizers via CITP/MSEX to simplify media selection.
View more A and B media slots alongside your current effect's settings, thanks to the upgraded configuration panels in the live window. Furthermore, a full DVI window re-design enables easy output to a specific monitor or the ability to span multiple TVs and projectors, making ELM a perfect video playback engine.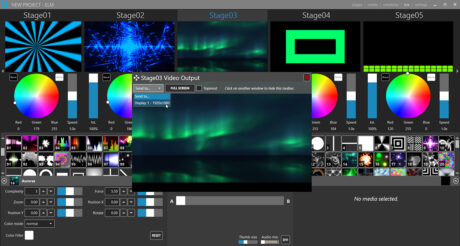 Finally, building on the audio effects released in v413, a new configurable audio falloff speed setting allows for a much smoother visual output or audio reactive mix.
For the full rundown on new features and to download the latest version and release notes head over to the ELM Webpage.
So, what are you waiting for?  GET MAPPING!
And remember to follow us (if you're not already)! You wouldn't want to miss out on the assortment
of fascinating things we share each week – so stay in touch and always be the first to know.
Any questions, comments or ideas? We always love to hear from you!
Leave a Comment: