U.K.'s Elrow Town Festival Gets Visual Boost from Avolites Ai R8 Servers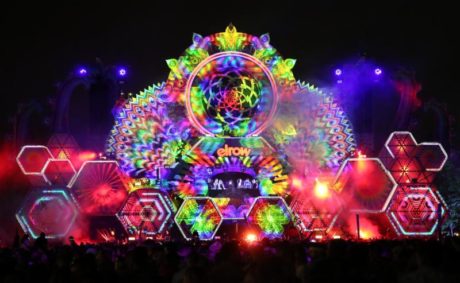 UK – When the 'bombastic' Elrow Town festival landed in East London's Olympic Park it had one main aim: to take revellers on a psychedelic trip through the Swinging 60s to Latin Samba. Challenged with serving up the eye-curdling visual effects was Philip Mayer of GaiaNova, using Avolites Ai R8 servers.
More details from Avo (www.avolites.com):
Main stage photos went viral, as attendees shared photos of its kaleidoscopic, swirling colors and enthusiastic performers kitted out in tie-dye clobber on social media. Headliners included Fatboy Slim and Idris Elba, as the up-for-it crowd danced to some of the best house and leftfield tracks around.
The Ai R8 server pumped out perfectly projection mapped content onto the complex 3D stage structure. The visuals were created by Wayne Ellis at Afterlife, along with some content from the Ai stock library. In addition, a live feed of 16:9 HD content from Fatboy Slim's regular video playback team was taken and live mapped onto the stage's panels, combined with some custom-made clips.
"Pre-programming involved building a 3D model of the stage within the R8 and dividing this in to several UV-mapped parts," says Mayer. "There were a number of clips from Wayne that were encoded in to the Ai Server's QuickTime AiM codec. I then created some palettes of appropriate clips from the Ai content library.
"Because Ai inherently understands how to display video as UV-mapped content on a 3D model, it was fairly straightforward to build a custom 3D model of the stage, and map this in such a way that regular 16:9 content would be intelligently mapped across it. By dividing the stage model in to several parts, I was able to send different video elements to different areas of the stage, and manipulate these all in real-time, working from the single 16:9 live video feed coming from the stage."
Given that the festival was an outdoor event, the team only had the hours of darkness on the night before in order to make the complicated set up live show ready.
"Using Ai, I was able to create the 3D stage model, projection map it, and have the live feed running across it, all within the first couple of hours of the overnight load-in," says Mayer.
On the night, the show was performed on the fly, with Mayer at front of house, on comms with Fatboy Slim's onstage video team, mixing and layering their live feed over the pre-rendered video clips playing from Ai.
"All in all, it went surprisingly smoothly, considering none of us knew quite which track Fatboy Slim was about to play next!" he laughs. "It was a good example of live collaboration, and the complete opposite of the fully timecode-playback 'live' shows I've previously worked on."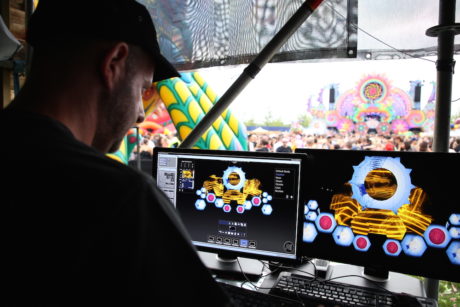 The Ai R8's outputs were routed through a Lightware 16×16 DVI matrix switch to four quad-stacked Barco 30k laser projectors, hitting the stage with 120,000 lumens of projected light.
"The Ai servers worked flawlessly, as ever," Mayer concludes.
The creative brief for the show came from the Elrow Town organizers, with the technical aspects being overseen by Mark Neil at Production Hire. Bob Jaroc was the video director and Stephen Abbiss was lighting designer for Fatboy Slim, using an Avolites Sapphire Touc
Leave a Comment: