Avolites' Key Frame Shapes feature powers 3D laser set for The Hunna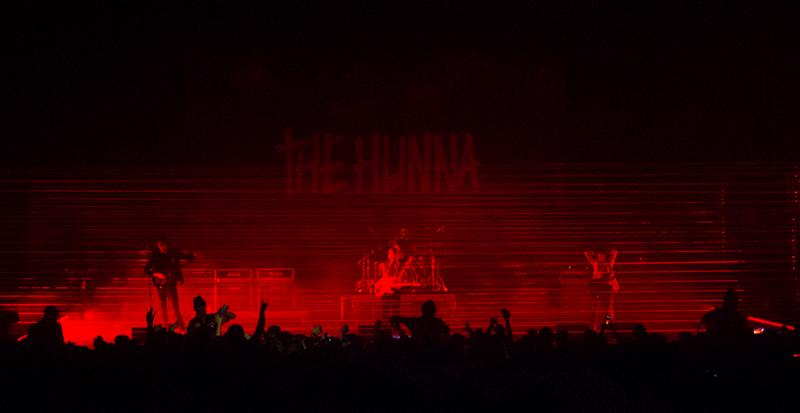 UK – Visionary lighting designer Tom Campbell created an 'abstract visual world' of lasers with a sophisticated colour palette for English rock band The Hunna's recent world tour. Campbell programmed a 3D 'lightscape' defined by the lasers, using Avolites Sapphire Touch and Quartz consoles and two TitanNet Processors.
More details from Avolites (www.avolites.com):
"I created the 3D lighting and laser 'set' for the band to play within and for the audience to interpret – band and audience have said they see things like a sine wave, mountains, geometric shapes, tectonic plates or even a director's clapperboard!" explains Campbell. "I played around with a lot of negative space, a lot of silhouettes, but always with the band being the centre of attention. With the grid of lasers behind them, it allows you to always make out the band members; even with the rest of the stage in blackout you can always see what the band are doing."
To control the lasers, Campbell used Avolites' Key Frame Shapes feature, in its Titan operating interface. "This was the first time I used a console to control lasers, and this was a majority-laser show, with the RTI NEO SIX laser operating as a 60-channel DMX fixture," he explains. "I used Key Frame Shapes to create those movements between parameters, between two positions, and just to have that intricate control to allow them to be the backbone of the design."
The Key Frame Shapes feature allowed Campbell to create his spectacular 3D laser effects from scratch. For this tour, he initially programmed using his own Avolites Quartz before transposing his show to a Sapphire Touch – with a second console as backup on the road.
"The Quartz is great because it's so compact – if I need to I can jump on a plane with it and take in anywhere in the world," he says. "But you have the freedoms of much more space, a bigger touchscreen and layout on the Sapphire Touch, so that console was needed for these shows. I also had a set list window in front of me, because it changed regularly, often very close to showtime. Having the set list feature in the console, being able to change the order of the pages I'm flicking through, saves time between songs and ensures you don't miss anything!"
To control the show live, Campbell used a mix of cue stacks and pre-made effects. "None of it is timecoded," he explains, "personally, I never timecode a live show. I've used the Avolites timecoding system before and it's incredible, very intuitive, but for bands like The Hunna, who might extend the middle 8 or hold going into chorus, it's better for me to play the console. It makes it more fun and it adds that human element."
In addition to the lasers, and complementing their lines, Campbell also used 29 meters of Martin Sceptron LED tubes with frosted diffusion and 17 meters of GLP's X4 bar20.
The Avolites consoles and TitanNet processors were provided by design collective MIRRAD for the show – a company that Campbell recently joined.
The Hunna performed nine UK dates throughout January, selling out at six venues including Southampton Guildhall, Bristol O2 Academy and Manchester O2 Apollo. The Tour concluded with two dates at O2 Academy Brixton on 12 and 13 January.
Leave a Comment: