Christie Pandoras Box and Christie Boxer delivering striking Game of Thrones visuals at BNP Paribas annual meeting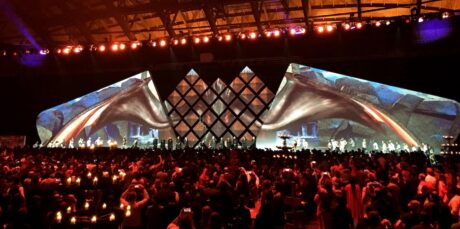 CYPRESS, Ca. – Using Christie technology, the Portuguese branch of BNP Paribas celebrated another profitable year with a dynamic Game of Thrones projection mapping show that brought the house down.
More details from Christie (www.christiedigital.com):
Pandoras Box media servers, Christie Widget Designer, and six Boxer 4K30 projectors delivered content based on the three dragons  Drogon, Viserion and Rhaegal  from Game of Thrones. Europalco designed a spectacular screen on a truss covered with white Lycra, which measured 64 meters (210 feet) wide by 12 meters (39.5 feet) high and imitated a dragon's body. Grandpa's Lab and its partner Expanding Roots created the content. The annual meeting also featured fire-throwers, actors and acrobats.
To organize the event, the bank commissioned Europalco, one of Portugal's leading event and show companies, which, in turn, contacted Grandpa's Lab, a studio specialized in stage design and the creation of contents for mapping projections. The winning tandem is behind some of Portugal's most memorable audiovisual events.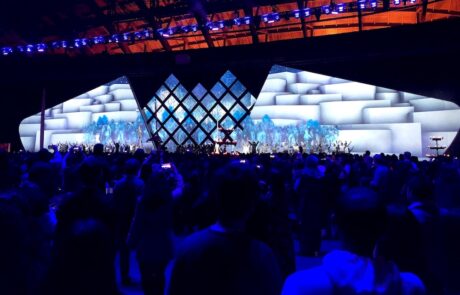 "BNP Paribas asked us to come up with a spectacular show for its employees at its annual meeting," said Pedro de Castro, project manager at Grandpa's Lab. "They were looking for something really impressive, a setting that would cause a big impact and a highly dynamic emotional curve. As the event was inspired by Game of Thrones, we created a story to lead spectators through this unique visual universe."
The Pandoras Box system managed the content powered by the projectors and one of the biggest challenges was matching the images precisely on the irregular screen surface– especially central part, which represented the dragon's torso, being full of uneven scales.
"Adjusting the images to the scales was a real nightmare," recalled Pedro Magalhães, CEO, Europalco, "but we were able to resolve the problem thanks to the Pandoras Box warp plug-in. The images were projected to perfection, at all times filling the different parts of the screen and maintaining the lighting strictly inside its edges. Pandoras Box is a really easy system to use and, more importantly, it never lets you down," said Magalhães. "The operation and programming of the whole show was so simple because of the media servers and Widget Designer."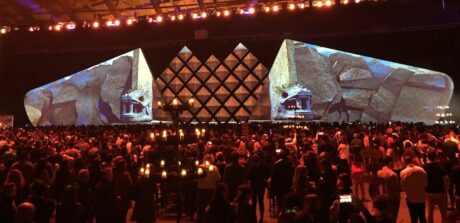 Grandpa's Lab's Pedro de Castro was also impressed with Widget Designer. "Its mapping tools are excellent. I also like the fact that it allows you to create complex timelines without the need for third-party software, which is a big help when organizing any event, whether the script is simple or highly complex."
BNP Paribas employees noted the clarity and brightness of the Christie Boxer projectors that played a central role in the production.
"I never believed that I would be so impressed by projection. The screen was so big and spectacular that it almost overwhelmed you. The 3D effect of the dragons convinced you that the dragons came out of the screen and flew over our heads," said one employee. "The quality and sharpness of the image were really incredible. And the light coming out of the screen was equally awe-inspiring."
"We were delighted with the performance of the Boxer 4K30 for the event," said Magalhães. "It is so powerful that at certain moments we had to turn off some of the projectors because we actually had too much light. And there are a lot of other factors too that make it so interesting, like the multi-lamp system, the low power consumption, how easy it is to adjust them, and the built-in warping and blending functions."
Christie Widget Designer is an intuitive software tool used to create customized control applications for shows, allowing all sources and screens to be easily connected with one single powerful interface. Widget Designer translates the various different protocols so that they can interact with each other, either automatically or on demand, with single or multiple controls, like the follow-up system, industrial sensors, PCs, tablets and even game controllers.
Christie Boxer delivers high performance in a light, compact, rugged design, with 360-degree and omni-directional installation capabilities. In addition, the Boxer also comes with built-in Christie TruLife™ to ensure optimum bit depth and high frequency images.
Leave a Comment: