Christie Terra, Pandoras Box and Spyder X80 selected for second annual Screenforce Days
CYPRESS, Calif. – Spectacular stage shows, screenings and exciting TV highlights – everything revolves around the world of colorful images at Screenforce Days in Cologne, Germany, the largest event in the German-speaking TV and motion picture sector. A joint initiative of 12 partners located in Germany, Austria, and Switzerland, Screenforce represents 95 percent of the television advertising market.
More details from Christie (www.christiedigital.com):
The two-day show used a state-of-the art integrated Christie® solution to control, playback, process and transport the audiovisual experience at Screenforce Days. Christie Pandoras Box quad servers and Christie Widget Designer, controlled and played back synchronized show content as ultra-high resolution productions. The Christie Spyder X80 processed all incoming server and SDI signals and managed presentation of these different formats for the large display systems. The Spyder X80's customizable multiviewer provided specific views that allowed the production staff to efficiently monitor and manage the show. Christie Terra  was used in combination with X80, Pandoras Box and Widget Designer to transport AV signals, synchronized from processing outputs to displays and control interfaces into the system with zero-frame latency and uncompressed quality.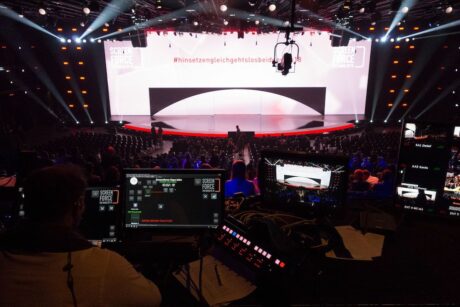 LICHTUNIT GmbH was responsible for video consulting and operating, content management, and project management for the content section. The company – which has worked several of Europe's top events  specializes in planning and implementation of lighting and media solutions in architecture, theater, TV, trade show and other events.
During Screenforce Days, however, LICHTUNIT executive and project manager Stephan Flören and his team not only had to manage one show, but 10 independent shows – each with its own separate team  rolled into an overall theme.
The technical setup used eight Christie Pandoras Box media servers, four Christie Pandoras Box Managers and two interfaces using Christie Widget Designers. The Christie Terra system transported the KVM signals of the Widget Designer server and a manager system to the front-of-house system in the auditorium. An 18-channel system with 10 GB of Motionfiber, a fiber optic solution designed specifically for events and mobile use, was the basis for the network infrastructure and data transfer. This was complemented by four HDMI-2K routes.
The systems needed to manage a mixture of both original and compressed content requiring up to 28 TB of storage, for this complex production. However, as Flören reaffirms, this was no problem with the Christie Pandoras Box playback system and the network infrastructure: "Thanks to the perfect mix of technology and team performance, Screenforce Days was a resounding success for us. I would therefore also like to express my sincere thanks to the operators and the Christie team for their on-site support."
Matt Finke, executive at LOOP LIGHT, adds, "The combination of the Christie Spyder X80 and Terra proved itself to be a powerful complete package for content management and AV signal. transmission. We are delighted that we were able to make such a positive contribution to this great project."
Leave a Comment: