Claypaky Pushes The Boundaries For Exclusive Belgium Light Installation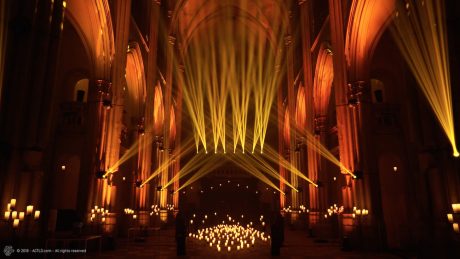 BELGIUM – Light Moves was a stunning indoor 'son et lumière' (sound and light) installation designed and produced by Koert Vermeulen, an award-winning lighting designer and founder of Belgium-based international lighting design agency ACTLD.  Appearing for one night only in the Gothic remains of an abandoned church in the centre of Brussels, Belgium, the installation featured the Claypaky Sharbar as star product, amongst a range of other fixtures from the leading Italian brand.
More details from Claypaky (www,claypaky.com):
Originating in France, son et lumière shows focus on historic architecture and places of interest, with light shows set to music. For Light Moves, Vermeulen brought the outside in, drawing from his knowledge of the relationship between light and human emotion to create an intimate, ten-minute show for his guests.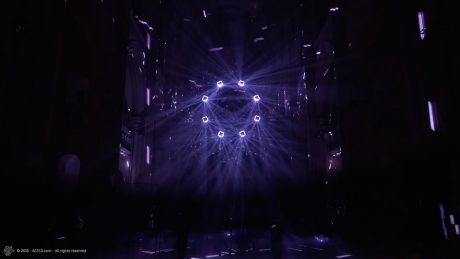 "I know the kinds of sensation you can bring using light," says Vermeulen, who has designed many son et lumière shows throughout his career. "I used light as an implicit storytelling tool. I wanted to evoke senses and moods that facilitated the audience's connection to their own emotions. That can be beautifully done with just lighting and sound, there is no need to use explicit storytelling means such as projection or LED video content."
With no large video element to take the lead and a desire to do justice to the venue's distinct architecture and intimate surroundings, the quality of light produced by the selected fixtures was high on the agenda. Vermeulen chose to work with Claypaky, whose high-quality products he trusted to deliver. He selected versatile fixtures from the brand in a bid to keep fixture types to a minimum and preserve the integrity of the church's interior.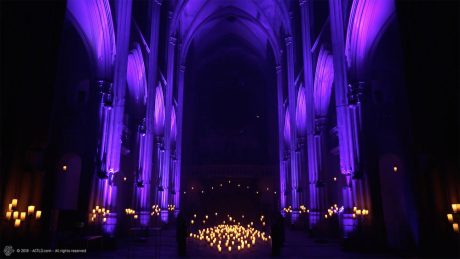 "I selected the SharBar to highlight the architecture of the arches that run along both sides of the nave," says Vermeulen. "I also used the fixtures to light the choir section of the church, placing them in a triangular formation on the floor, receding them into the back of the church. The fixture's engineering allows you to create a particular multi-beam effect that you cannot replicate with another baton fixture. It is such a novelty in terms of its visual output – straight away when I saw it I thought, 'wow, I want this!'."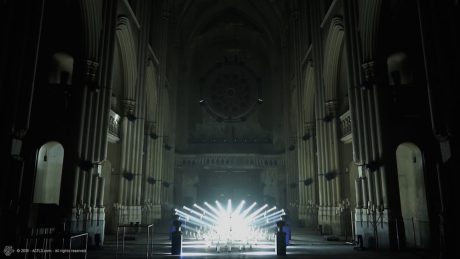 Vermeulen refers to the SharBar's unique ability to direct each of its six light beams independently through a series of six motorized, double-mirrored optical units. This ability is perfect for when a designer wishes to create multi-beam effects without bringing in additional fixtures.
Also playing a key role was the Claypaky Stormy, "I wanted the Stormy for a wash fixture, even though it is designed as an LED strobe," says Vermeulen. "It has a special character to it that is not easy to find in the typical LED washes that you find around. This means it can wash and strobe and this quality allowed me to bring a really interesting element to the show."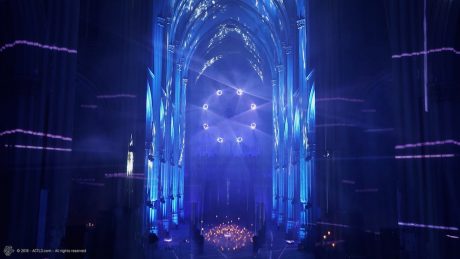 Adding further texture to the space was an IVL lighting system from specialists Minuit Une. Vermeulen used the system in conjunction with the SharBar, Stormy, Claypaky Sharpy Wash and Claypaky Sharpy to expand and contract the space inside the venue. Across the floor of the church and in between the arches were Boogie LED 'flameless' candles, fixtures designed and developed ACTLD.
Leave a Comment: