Colour Sound still going Above and Beyond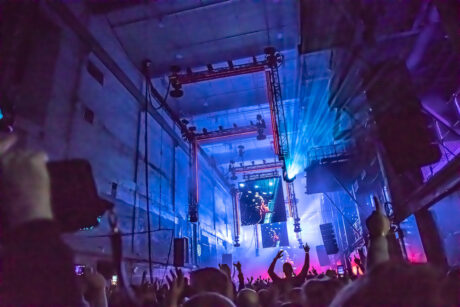 UK -The atmosphere starts building the moment you walk into the vast entrance foyer of the Printworks. You can tell a lot about an act by the crowd and this was a good one, smiles everywhere and all willing to have a chat and a reminisce; as many brand-new acolytes as faithful followers who had been enjoying the music of the group since Jono Grant and Paavo Siljamäki first set up their record label Anjunabeats, twenty years ago, quickly joined by Tony McGuiness and their incarnation as electronic music pioneers Above and Beyond.
More details from Color Sound (www.coloursound.com):
The two sold out, back-to-back performances marked Above and Beyond's first time at Printworks having previously played Brixton, Alexandra Palace, Wembley or O2 Arenas when in London. The 5,000 capacity former industrial space presented its own challenges but Lighting Designer Neil Marsh was able to curate the space to maximize the impact. "We made a decision to use the 'Live Room' side of the venue at Printworks so we could bring in our own screens and lighting design for the two shows." Neil recounted, "Printworks is an awesome space which has some difficulties due to its volume and the fact that it is a very long room. We decided to have three offset 5mm LED screens to bring the production out into the room and L shaped trusses with 64 GLP X4 Bar 20s hung down the length of the venue – creating a large club feel – rather than a traditional live show for a band where all the production is stage focused at the end of the room".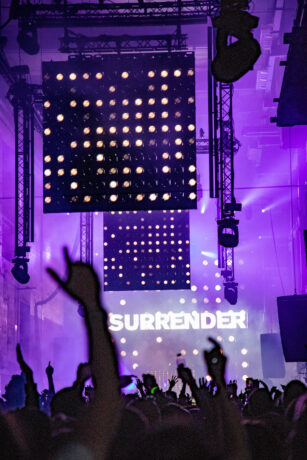 Neil has been providing Lighting and Production Design as well as operating for Above and Beyond for a decade now and is still exuberant about the new music being produced and the new shows they're working on together. He frequently designs for the band on one off larger shows – often collaborating with Dylan Byrne – as well as operating and production advancing all their festival and club shows. Their main touring shows keep him almost exclusively busy but he also loves the rarer Acoustic Tours  which he says "provide a completely different challenge and different pace of music and production but with all the same people which is lovely plus I still enjoy working a few festivals a year with Colour Sound Experiment, it's good to remember how much hard work goes into actually building a lighting rig for a festival instead of just rocking up as LD and operating a 2 hour show."
Over the past ten years he's been able to continue evolving the designs, incorporating and being inspired by new technologies as they arose, "Small wattage beam fixtures like the Sharpy really found a home with electronic music shows and the rate of development in Video has been incredible – it is not uncommon to be running 1 or 2 full 4K outputs from FOH and mapping several screen surfaces for the larger festivals – even at Printworks the main 8.4m x 8.4m upstage screen was over HD with a height of 2048 pixels."
Innovations with small cameras, NDI video distribution and software based output mapping has all informed the show and keeps David Kyle – who manages video control/mapping/onstage text setup and an ever expanding repertoire for A&B – very busy keeping up with the rate of development.
Ed Blackwell who helped prepare the kit as well as working the live shows said, "The designer Neil Marsh had spec'd Roe CB5 from Colour Sound's extensive video inventory. The large sizes of the screens meant we had a choice, either use multiple outputs from Above and Beyond's media server and stitch the screen together using the LED processing, or map all three screens into one 4k raster."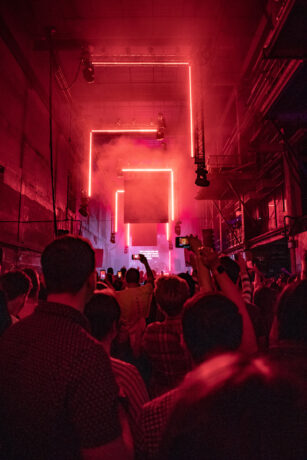 Following discussions, Dave decided that the end to end 4k system would be required to handle the content for this show, which was both very geometric and fast moving, and he said tends to highlight seams between processors on larger screens. This meant providing switching at FOH for Dave to be able to black the tiles, and also allow the support VJ to take over parts of the system. "We deployed a new acquisition for Colour Sound in this role, a Barco Image Pro 4k, along with a pair of 4k Fibre optic runs, from FOH to dimmers, where I deployed a pair of Colour Sounds Evision Roe 4k processors, all of this drove 186 of Colour Sound's Roe CB5 tiles, rigged on T4 touring frames." Being able to deploy a fully 4k system meant that they could keep every tile on one single output from Dave's media server, and the Z6 processors allowed them to drive every single tile from a single physical processor, keeping the second unit there as a backup. This guaranteed frame synchronization across all the tiles, also made it much easier and faster for setting up on the racks, being able to configure and color correct the entire system in one go, rather than having to jump around processors.
The onstage text is another of those brilliant touches that make the crowd feel so connected to the artists and to the show, making each nightly performance unique. "Paavo Siljamaki one third of A&B wanted to connect with the audience without shouting down the microphone so the text system we use on screen for the messages was custom made by Paavo and his friend Timo – which allows the band to type live messages on stage – the video content is made by Dylan Byrne and is directed by myself/ Dylan and the band" Neil explains, "some content is track specific and some are more generic for use with ever evolving club tracks that are incorporated into a continuously updating set that is performed at the shows."
Neil had already worked with most of the team on other A&B projects, Acoustic 2 and electronic Arena shows throughout London and the UK. Neil said, "It was great to work with so many friendly faces and catch up with old friends again." The Colour Sound Crew for these shows was a five star 'A' crew comprised of Simon Robertson Crew Chief, Sam 'Kenny' Kenyon, Ed Blackwell, 'Afghan' John Lahiffe, Tim Meadowcroft, Frank Williams and Luca de Lauri – "With a short build time of 8-6pm on the day before the show we were up and running Friday morning ready for programming which exceeded expectations time-wise and meant we were able to enjoy two relaxed sold out London shows."
In addition to the video system and the hung GLP X4 20 bars, Neil used 22 Clay Paky Scenius Unicos, 6 Robe Spiiders, 14 Sunstrip Actives, 14 DMX 2 Lite Moles, 8 Portman P1s, 22 GLP JDC1s, as well as a combination of SFX including smoke, haze and Stadium Blasters. Lighting was controlled by the MagicQ MQ500.
Leave a Comment: