Dave Koz Christmas Tour Kicks Off With Bandit Lites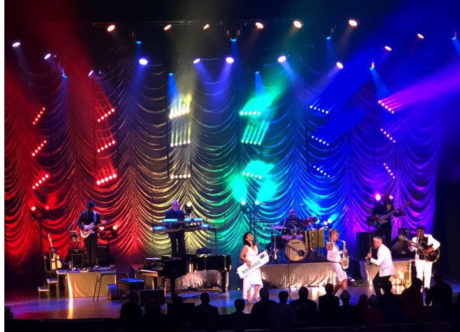 NASHVILLE, TENNESSEE – With five holiday albums and a three-decade career that has accumulated more than nine No. 1 albums on Billboard's Current Contemporary Jazz Album chart and nine Grammy-award nominations, Dave Koz's 21st iteration of his Christmas Tour is a show that is simply not to be missed. Bandit Lites supplied the lighting for the festive celebration, whose Special Guests include Mindi Abair, Jonathan Butler and Keiko Matsui.
More details from Bandit (www.banditlites.com):
"'Santa Claus is coming to town' with 'a few of our favorite things' (mostly egg nog)," joked Lighting Designer Erik Parker, "but to help the country really get in the Christmas spirit, Dave Koz and show producer Brian Foisy invited Chris Lisle Lighting Design once again to create a visually dynamic and stunning show to accompany the music of his 21st Anniversary Christmas Tour."
Parker shared the production's goal was to craft a big, elegant and simultaneously rocking show that would fit into a single truck and various venue sizes.
"As we began the process, I intentionally wanted to make this year different from last year's 20th anniversary tour," he said. "That was such a beautiful, classy show and although this year is as well, it needed to be able to take a little more rock and roll feel as the music of Dave and his guests artists called for it."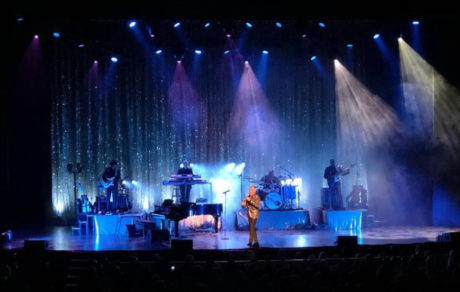 Flown trusses above the stage form trapezoidal shapes and are outfitted with Martin MAC Vipers and MAC Auras while the front sides are lined with festoons. More Auras are placed downstage as a side-light for the band and artists, while GLP X4S supply upstage light to the backdrops and groupings of varying pipes and bases behind the band with GLP X4S, affectionately referred to as the "Wall-E" lights.
"We have pieces that move in and out throughout the show: six torms upstage with Chauvet
FX-B's and festoons that land between them for a wall of Christmas cheer," explained Parker. "In addition to the lighting design, we have stunning drops that create different textures throughout the show and one three-foot mirror(ball) dreidel, because what's a Christmas show without some Hanukkah rock!?"
"The challenges were very minimal," shared Parker. "We went through a few revisions to get to the final design, but having toured with them for the past four years and chatting with Brian Foisy and Dave Koz during the process, I had an idea going into it of their goals in the look of the show and the logistical challenges on the road with the types of venues they'd party at, so the actual revisions were more of minor tweaks to fine-tune everything in." The production was able to make use of Bandit's Venue One rehearsal space and hang the rig in its entirety prior to programming.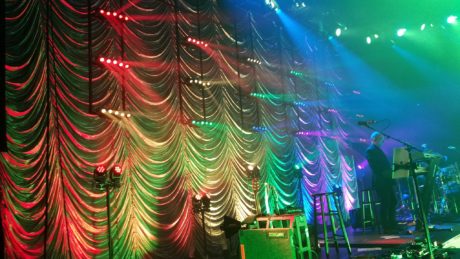 "There is no better way to kick off the holiday season than to hear the Christmas music of Dave Koz and his entourage in our Nashville rehearsal facility; it is something we have come to look forward to each year," said Bandit Vice President Mike Golden. "I know I speak for our staff in saying Chris Lisle, Erik Parker and Brian Foisy are always a genuine pleasure to work with and this year they have entrusted Ms. Terese Fensler as their touring Lighting Director. I had the pleasure of watching the show as they rehearsed, and it looks amazing."
"Project Manager Gene Brian and the Bandit team killed it," Parker shared. "Walking in for the first time, everything was exactly how I imagined. On the road (Bandit techs) Terese and Brenna get the rig up and tweaked and keep it working at 100% so each city can have a holly jolly good time and fully enjoy the musical magic that is the annual Dave Koz and Friends Christmas Tour!"
Erik Parker, CLLD LLC – Lighting Designer
Brian Foisy – Show Producer/Production Manager
Josh Foisy – Production Coordinator
Terese Fensler – Lighting Director
Brenna Rae – Lighting Tech
Michael Golden – Bandit Account Rep
Gene Brian – Bandit Project Manager
The Dave Koz Christmas Tour continues through December. For a complete list of tour dates and tickets, visit http://davekoz.com/dave-koz-tour-dates/
Leave a Comment: