EXE-Rise hoists support Neg Earth Lights' Busy Schedule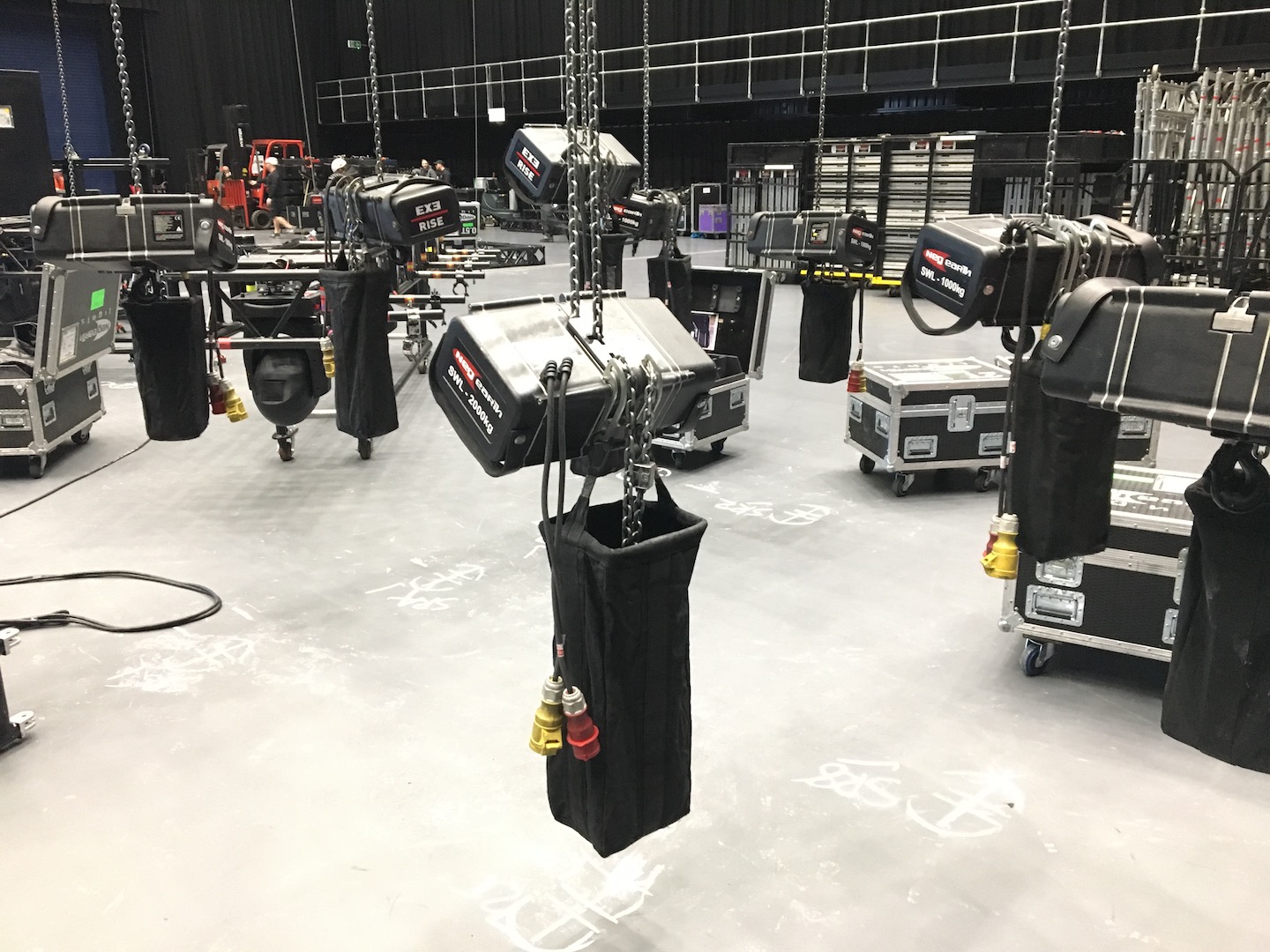 LONDON – The complete trust that Neg Earth Lights (www.negearth.com) have put into EXE Technology products was clearly demonstrated last year when they purchased over 200 new EXE-RISE units within a six-month period.
More details from Area Four (www.areafourindustries.com):
Recent purchases included 250kg, 500kg, 1000kg and 2000kg units, all featuring the new 8:1 safety factor standard and FEM class 2m rating, along with some specific Neg Earth Lights customization.
For over 30 years, London-based Neg Earth Lights has been one of the premiere entertainment lighting and rigging hire companies in the live events industry. For a wide range of clients, they provide premium levels of support and value for money through the provision of skills and advice in project management, design, fabrication and maintenance, together with the supply of crew, for large scale music festivals; tours; ceremonies; sporting events; theatrical production and corporate events. Their aim is to always be at the forefront of innovation and design whilst maintaining the highest safety standards.
We recently sat down with Neg Earth to discuss why they chose EXE-RISE hoists and how they had been performing on the job.
How satisfied are you with the new EXE-RISE hoists?
The current EXE-RISE hoist (8:1 range) has seen some fantastic improvements. For example, the way in which the wiring has been arranged internally, and also the upgrade of the limit switch assembly, especially in the 500kg hoist. Mechanical improvements have seen the chain size increase, leading to a higher safety factor. Another great part of the EXE-RISE is the external nylon guide used, with a carefully designed chain opening to avoid damage to internal components if the chain sees any twists. This guide is so important with regards to longevity of the hoist. The way in which you can remove this guide in two sections on the 500kg hoist saves time, money and allows the technician to make the change without having to remove the chain. The chasses have carefully machined gaskets that allow for a high IP rating, and so far, this has proven to work well in the toughest of outdoor tours. As stadium tours get larger, and as hoists exposure to the elements increases, this serves to be an important factor to the life of the hoist.
What are the advantages of using EXE-RISE hoists?
The new EXE-RISE range consists of fixed speed hoists that meet the latest safety requirements. Not only are the hoists great pieces of equipment, they also provide service at the highest level.
You have a very large fleet of EXE Hoists now. Are they proving reliable? If so, have you received any particular comments or feedback on reliability, and how they're performing on shows and tours?
They're proving to be very reliable and durable on tough tours. It took a little time at first to change people's opinions about them, but now many renowned riggers are asking specifically for EXE-RISE. This is really great feedback, since we usually don't hear many comments on hoists, as we normally get on lighting or other aspects of this industry.
Can you give us some examples of where the EXE-RISE hoists you purchased last year were used?
There were many events where they were used, but the stand out shows included Phil Collins, Guns 'N Roses, Take That + ELO (Chris Vaughan – Production Director), Volbeat, Sting, Blink 182 and The Rolling Stones.
How satisfied are you with the service from Area Four UK and EXE Technology?
The service provided from both companies has been second to none. In an industry that requires such a high level of service at short notice, it's very important to know that when we need assistance they will make that extra step.
More and more rigging and live event production companies are putting their faith in EXE Technology products – Hoists, Cell Interfaces, Drive Controllers and Dynamic Stack Tracks (DST) – with their safety and reliability proven show after show.
Contact your local Area Four Industries distribution office in the UK, Germany or America for a test drive of an EXE Technology product or contact the EXE Technology factory directly.
Leave a Comment: