John Legend at the Greek Theater of Taormina: a magical Night lit up by DTS.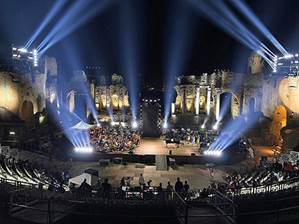 GREECE – John Legend, world star of soul music, performed on July 25th in one of the most evocative places in the world: the Greek Theater of Taormina. It was John Legend's only European exhibition, accompanied for the occasion by a 100-piece orchestra; an extraordinary concert that merged great music, millennial history and landscape magic.
More details from DTS (www.dts-lighting.it):
The event was lit up by186 DTS projectors (RAPTOR, NRG 1401, BRICK, KATANA, and WONDER).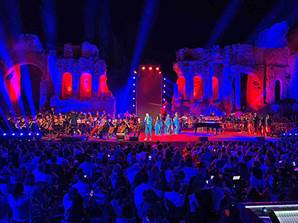 "The atmosphere of the Greek Theater of Taormina was beautiful" – said Nicola Mongi, lighting project manager – "DTS projectors integrated well with that unique place; in addition to their brightness and color quality, the choice of DTS projectors was perfect because they are all very compact and lightweight, the right fit for the stage space – 2300 years old – that is obviously to be treated with the utmost care and does not allow for cumbersome installations.
I am really happy with the result. The audience and the production were enthusiastic about the show."
Lighting Director Hal Deiter stated, "I was very happy with how this event turned out in the end. The DTS fixtures were powerfully bright with saturated colors as well as nice pastels. To be able to light a show in this particular venue was certainly a great experience."
The rental company providing the lighting was Madema Italia
Leave a Comment: