Luke Bryan "Sunset Repeat" Tour Extends into Fall, Lit with Chauvet Fixtures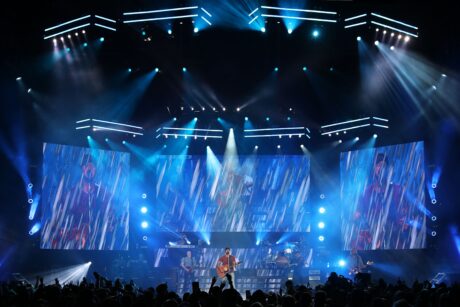 CLEVELAND, OH – Luke Bryan's Sunset Repeat tour, which kicked off May 31 and will wrap up Oct. 25 at Ford Field in Detroit, includes a Justin Kitchenman-designed video and lightshow that features Chauvet Professional Maverick and Épix fixtures supplied by Elite Multimedia of Nashville.
The tour, which also features performances by Cole Swindell, Jon Langston, and DJ Rock, will also include a show at Ruoff Home Mortgage Music Center in Indianapolis, IN on Oct. 11. The show there, originally set for Aug. 18, was postponed due to severe weather. Bryan is also staying busy this month and next with his 2019 Farm Tour dates.
More details from Chauvet (www.chauvetprofessional.com):
Officially, summer ends in the northern hemisphere on September 23 with the autumnal equinox, but don't tell that to the thousands of people in cities like Indianapolis and Detroit who will be packing venues to catch the final dates on superstar Luke Bryan's Sunset Repeat Tour this fall. Joined by friends Cole Swindell, Jon Langston, and DJ ROCK, the CMA Award winning artist has been giving fans a taste of starry night singalongs on the lake since he kicked off the tour on May 31. The flip of a calendar page isn't about to change that.
Contributing to the good time atmosphere on stage, as Bryan and company move exuberantly through their 23-song set, is a dynamic, 28-universe Justin Kitchenman-designed video and lightshow that features CHAUVET Professional Maverick and ÉPIX fixtures supplied by Elite Multimedia of Nashville.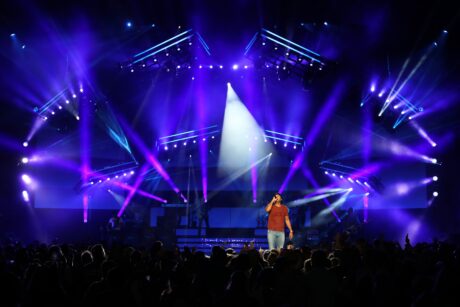 Displaying the free-flowing energy of a beach party where everyone is invited, Bryan's performance gleefully pulls in a diverse mix of music that includes his popular country hits like "Sunrise, Sunburn, Sunset" (from which the tour got its name), as well as renditions of crowd-pleasers like Bon Jovi's "Livin' on a Prayer."
Kitchenman's diverse design moves seamlessly with the many moods of the music, drenching the stage in deep blues for songs like "Move," and turning up the intensity levels for spitfire tunes like "Kick The Dust Up."  A large vertical video wall over the set, flanked by two equally impressive square walls, creates an evocative environment on stage by displaying a wide range of images that include "neon" cowboys, clear blue skies, and red sunsets.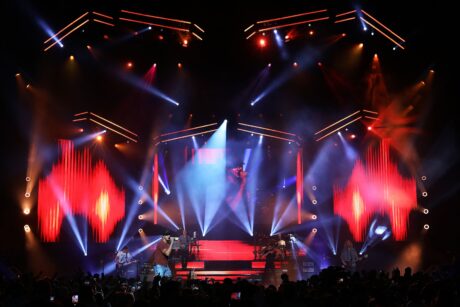 Working in unison with the video walls are 16 Maverick MK Pyxis fixtures that are arranged four apiece on vertical light ladders. Drawing on the continuous 360° pan and tilt movement of the beam/wash effect, Kitchenman creates a variety of multi-dimensional patterns on stage.
Kitchenman also relies on the outer ring of nine zoomable RGBW LEDs in the MK Pyxis to conjure up a continuous flow of eye candy effects. At times, the looks from the Maverick units seem almost to grow out of the videos because of the way they mirror the colors and patterns displayed on the walls.
"The Pyxis works beautifully with the video elements of the show," said Kitchenman. "This fixture has so many visual capabilities that allow it to go from a fast-punchy beam, to a soft ambient wash, or any matter of combinations. We set up the Pyxis in line with the video walls so we could extend their visual impact.
"This tour is very evocative," continued Kitchenman. "It conveys a strong sense of summer and outdoor living. The video elements play a big role in setting this mood, and the Pyxis really are helping us add another dimension to the video imagery."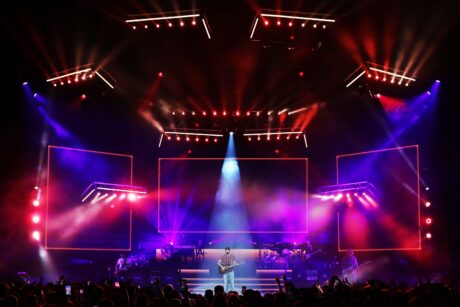 Also setting a tone on stage by outlining its form and focusing attention to its center are the pixel mapped EPIX Strip fixtures in Kitchenman's rig. "We use the ÉPIX Strips on our lighting pods to outline the top and bottom chords of the truss," he said. "The strips play an important role, as the pods are on automated winches.  Having the ability to outline the shape of the pods with the ÉPIX really defines their movement and position from song to song."
The reference point that this definition provides the audience with is especially important given the array of looks that run through Kitchenman's show. Like his client's music, his visuals are richly varied and ready to surprise and engage at every turn… Just like a "favorite summer," that lingers in one's memory long after the days have grown shorter and the temperature drops.
Photo Credit: Todd Kaplan
Leave a Comment: