Lenny Sasso Goes Rogue for Circa Survive on Rockstar Disrupt Festival Tour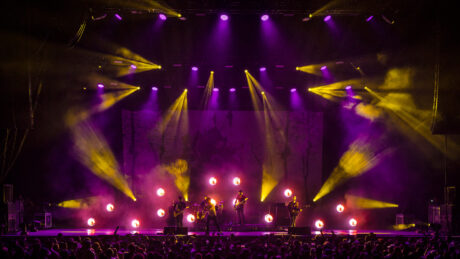 NEW YORK – It's altogether fitting that Circa Survive drew inspiration for their breakthrough debut album "Juturna" from the novel House of Leaves. Like the powerful Mark Z. Danielewski story, which breaks down literary barriers with its wildly unusual layout (some pages have only one or two words) and multiple storylines, the progressive five-piece band from the Philadelphia area has set its own course weaving in and out of musical lanes to create a unique sound.
More details from Chauvet (www.chauvetprofessional.com):
This relentless drive to push boundaries has been on full display in the band's performances this summer on the Rockstar Disrupt Festival Tour. Wrapping itself around their multi-faceted music and giving it a visual presence is an intricately balanced Lenny Sasso lighting design that draws heavily on the versatility of 12 Rogue R1 FX-B fixtures supplied by Squeek Lights.
Defined by its quick movements and bursts of intensely bright flashes countered by shadowy dark spaces, the band's Rockstar Disrupt lightshow reflects the passion and energy, as well as the complex wanderings of their music. "Circa Survive is an extremely dynamic band," said Sasso, who has been their LD on a number of tours. "They can be chaotic and all over the place in the verse, and then super mellow and chill in the chorus. As a designer, you want to complement each feeling with your work."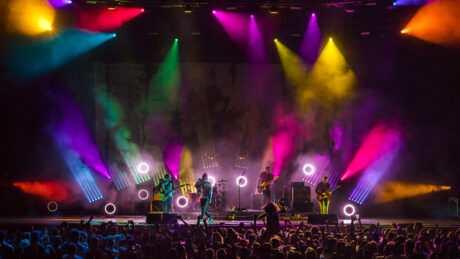 The Rogue R1 FX-B linear fixtures in Sasso's rig are helping him achieve this vision. "They allow me to reflect every vibe of the band," he said. "During the crazy chaotic parts of songs, I'm able to create some cold huge stroby looks and then move into a quieter mellow section by having everything pan back to the stage and tighten up nicely. You've got so many options of where to point light with the FX-B, you're able to make a huge distinction from one moment to the next. You can have these massive looks with light pointing everywhere, and then go right back to a clean tight concise quieter look all in the same song."
Sasso placed his R1 FX-B fixtures on the face of his carts (two per cart) and also on poles between the carts.  The fixtures are staggered in a configuration evocative of a pyramid.  The band's drummer and bass player both play upstage side by side on a 20' x 8' platform, and the "pyramid" made from the Rogue units peaks directly over them.
"The peak of lights creates a nice evocative effect," said Sasso. "So placing the Rogues in the weird pyramid shape I was able to get the big fanned out wall of light look that I wanted.  The majority of the looks I'm using these fixtures for fills the space upstage, by kind of creating a wall of light behind the band.  There's also a couple of looks where I spread the FX-B's vertically and fill the entire stage — usually when the band goes into a more mellow vibey section of a song.  Also, with part of this set being during the daylight on some of our dates, there are several looks where I just point them directly at the audience and do some cool pixel chases."
In deference to ambient sunlight, Sasso is relatively restrained at the start of most shows. "At the top of the show I don't really use my rig at all," he said. "It mostly comes in at the second song.  The first half of the show definitely has more of the 'eye candy' looks – just knowing that the first several songs will be played during the day.  It isn't until you get to the second half of the show that we start to get a little more artful with the wall of light look and so on."
When it does "get artful," Sasso's lightshow takes off in multiple directions. Like the music of his client or a great abstract novel, it may sometimes be difficult to define, but it's always very easy to be moved by its power.
Photo Credit: Sarah Hess
Leave a Comment: