LightParts Offers Metal Halide Lamps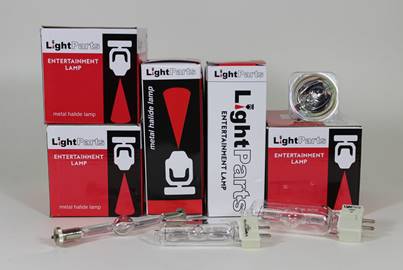 LightParts, the Austin, TX-based parts and repair source for the entertainment lighting industry, announced the availability of their own range of metal halide lamps, compatible for use in all automated lighting fixtures.
More details from LightParts (www.lightparts.com):
Don Pugh, President of LightParts says, "Over the past few years we've noticed a decline in quality in some of the lamps available in the marketplace and decided to take action. Samples were obtained from several manufacturers for evaluation. We selected the best manufacturer, made suggestions for improvements, and then tested those changes. This process yielded a range of metal halide lamps that meet or exceed the quality of the lamps of the past, sold at prices somewhere between "cheap import lamps" and the old standby brands. We feel once customers experience the quality of the lamps at the prices offered, we're confident they'll find them to be the best value in the metal halide lamp market."
See  here
http://www.lightparts.com/mm5/merchant.mvc?Store_Code=LP&Screen=CTGY&Category_Code=LAMPS
or email parts@lightparts.com for more information on LightParts lamps.
Leave a Comment: