New ADC T-Lift 2.0 Automated Curtain Rigging System Drastically Reduces Load-in Time from Days to Just Hours.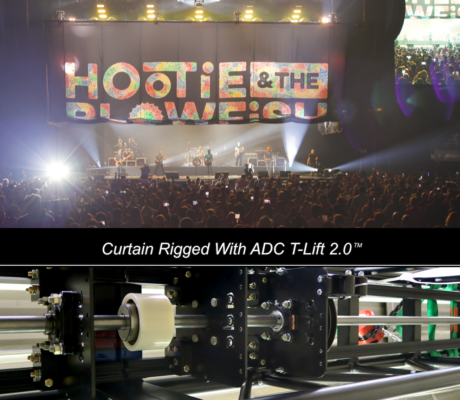 ALLENTOWN, PA – The newly redesigned ADC T-Lift 2.0 is the fastest, easiest, automated curtain rigging system on the market. Just ask Hootie & the Blowfish. They're using the patent pending system on their 44-city US tour. T-Lift 2.0 makes complex installations simple. It's perfect for permanent installations and packaged for touring. It saves you time and money every time you hang it.
More details from Rosebrand (www.rosebrand.com):
ADC (Automatic Devices Company) General Manager Kevin O'Grady says, "The T-Lift 2.0 system is automatic. Crews need minimal supervision because it's ready-to rig in familiar modular truss sections. The simplicity and low cost of ownership make it a no brainer for tours."
T-Lift 2.0 has several new features that enable faster installation, greater flexibility, and quieter operation:
Modular 10 ft Sections of Open Bottom Truss
The system is housed in customized modular sections of 14 inch "U" truss that make it third-pack modular, easy to ship, and easy to handle on site. The completely open bottom truss provides virtually zero limitations on placement of sheaves and lines because nothing gets in the way.
Self-Aligning Shaft
Just push the truss sections gently together and the shaft aligns instantly for swift coupling.
"Quick Connect" Lift Lines
Tool-free attachment of the lift lines to sheave assemblies allows you to leave the lines rigged into the curtain to quickly rehang the drape at every tour stop.
Flat Line, ½ Nylon Webbing Replaces Aircraft Cable
Provides nearly silent, snarl-free operation without sacrificing strength, capacity or safety.
Servo Motor & Controls
Small, quiet and powerful, the motor and drive are contained within a 14 inch drive module. Choose pendant control, show control, or the ADC multi-position touchscreen controller.
Leave a Comment: