Rascal Flatts Gets Back To Touring with Bandit Lites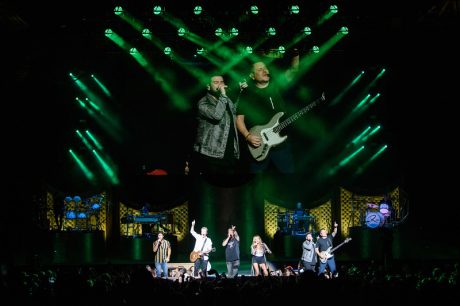 NASHVILLE, TENNESSEE – Rascal Flatts kicked off their BACK TO US TOUR this June with Dan + Shay and Carly Pearce, bringing their 17 career No. Ones to audiences around the country. Bandit Lites is thrilled to once again be providing the lighting package for the GRAMMY-award winning trio, who recently wrapped a successful sold out residency in Las Vegas and released their tenth studio album, Back to Us.
More details from Bandit (www.BanditLites.com):
Production Manager Jay Schwartz shared audiences can expect a set that evokes architectural aspects, with Sooner Routhier designing the lighting to enhance the theatre look.
"The pixilation of the B-EYEs and the GLP JDC-1's create a nice image in and of themselves," said Schwartz of the lighting, "Almost making the entire lighting rig into a set piece."
Bandit Lites supplied over 180 fixtures for the tour including MAC Viper Profiles for beam and gobo breakups, GLP X4S for set uplighting, GLP X4 Bar 20s, GLP JDC1, Ayrton MagicDot-R fixtures provide aerial eye candy, Eurolites, Claypaky B-EYE K20s and a grandMA 2 Full console for control by long-time Lighting Director Andy Knighton.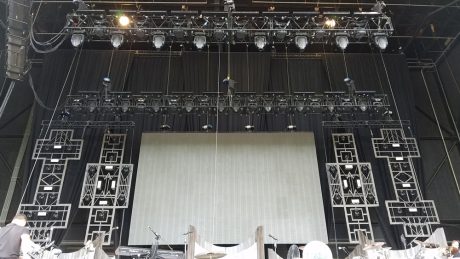 "The B-EYE is extremely versatile," Knighton said of the fixture choices. "It is like thirty-six fixtures in one, and bringing a theatre set out of the "black box" environment and illuminating it in the "real world" can be a challenge; that's why one needs horsepower with their fixtures."
"The GLP products add a staccato/strobe feel quite often and sometimes almost every note played has a lighting "bump" accompanying," Schwartz added.
Bandit's crew on Rascal Flatts consists of Nikki Dotson, Elizabeth Weller and Brenna Rae, whose dedication and expertise stood out to both Knighton and Schwartz.
"Bandit personnel always are the key factor in a touring situation," said Knighton. "Bandit personnel are always prepared for any of the situations that come up."
"Over the many years I've worked with Bandit, I've always been impressed with the professionalism of the personnel and the outstanding condition of the equipment," finished Schwartz. "Dealing with Mike Golden has always been straightforward and stress free; never a complaint from me."
"Jay Schwartz brought the Rascal Flatts production to the Hennessy Programming and Rehearsal venue and I was immediately taken aback by the all star team he has built to tour this show," said Bandit Vice President Mike Golden. "After taking a year away from touring, they are hitting it hard with a very impressive show and we are very pleased to be a part of this tour."
Rascal Flatts BACK TO US TOUR continues into the fall. For more information regarding upcoming tour dates and tickets, visit www.RascalFlatts.com.
Leave a Comment: