Green Hippo and DWR Sponsor Grindrod Bank Berg & Bush Mountain Biking Warriors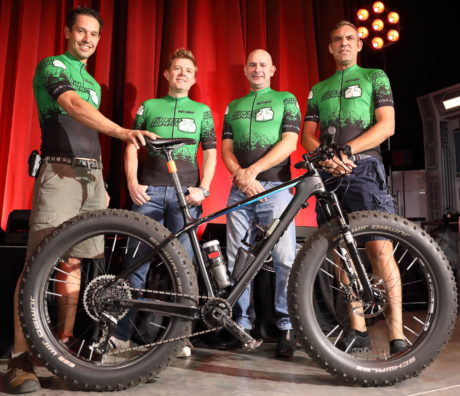 Green Hippo and DWR Distribution are delighted to announce their sponsorship of four riders taking part in this year's Grindrod Bank Berg & Bush, a thrilling mountain bike stage race which takes place in South Africa.
More details from Green Hippo (www.green-hippo.com):
Hailed by a leading sports journalist as South Africa's 'premier mountain biking event' the Grindrod Bank Berg & Bush covers 210km, descending from the peak of the Drakensberg, the eastern portion of central South Africa's Great Escarpment, and finishing in the foothills near Winterton, KwaZulu-Natal. Taking place over three days in October, this year's event has again attracted huge numbers of entrants and support personnel.
In their 'other lives', three of the race entrants are in fact direct business competitors in South Africa's lighting sector: Guillaume Ducray of AV Unlimited; Richard Baker of LEDVision, which forms part of the Gearhouse Group; and Paul Newman of Lucidity. DWR Distribution's Robert Izzett brought the rivals together to form one race team. Robert also secured sponsorship from DWR, and Green Hippo was delighted to join its South African distributor as co-sponsor.
Duncan Riley, owner of DWR Distribution said: "It's really special that we can bring a good bunch of people together from different companies, and who are actually competitors. They are the stalwarts of the industry and just enjoy what they do. It's going to be great, and we look forward to seeing the photos and video clips during the race! It's going to be a laugh a minute."
James Roth, Head of Sales and Marketing at Green Hippo, said: "It is great to see the guys in South Africa bonding over something other than their deep-rooted love and admiration for Green Hippo and our award-winning technology. We wish them all the best for the race."
www.green-hippo.com
Above (left to right): Robert Izzett, Paul Newman, Guillaume Ducray and Richard Baker.
Leave a Comment: