High Resolution Engineering and AV Concepts Partner to Drive 200-foot Blended Display at Cvent with Christie Spyder X80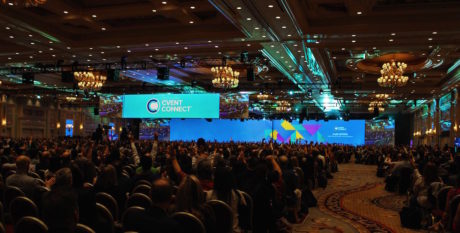 PHOENIX – When the general session of Cvent CONNECT 2018, the world's premier event technology conference, was held in the Palazzo Ballroom of The Venetian Hotel in Las Vegas, the expansive on-stage displays were driven by a Christie® Spyder X80 multiscreen windowing processor.
More details from Christie (www.christiedigital.com):
High Resolution Engineering in Phoenix partnered with AV Concepts in Tempe, Arizona to provide screen switching solutions and signal management for the conference where meeting and event professionals came together to strengthen the industry and advance their careers through innovation.
AV Concepts marked its fifth year furnishing AV services for the general session and the Cvent CONNECT trade show. High Resolution Engineering has long maintained a rental inventory of Christie products; the company recently added two Spyder X80s fully loaded with 24 inputs and 16 outputs.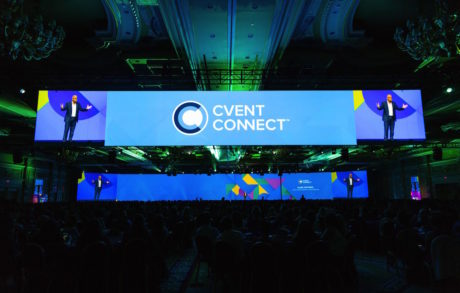 The general session stage featured a wall-to-wall, 200 x 18-foot curved screen using a seven-projector blend of 4K content. The screen was composed of sliding panels, some of which opened to reveal a hologram screen. Full-screen graphics were shown for the conference opening with speaker support from IMAG bookending the curved screen. A wide-screen delay screen was elevated in the middle of the house.
Initially, AV Concepts had specified two Spyder X20s running in parallel. "The screens required more outputs than were available from an X20 so they considered running a pair of X20s in parallel," notes Drew Taylor, partner, High Resolution Engineering. "I suggested simplifying the system using one X80 to handle the sheer number of I/Os (inputs/outputs)."
The Christie Spyder X80 offered myriad advantages beyond I/O capacity, Taylor adds. "The X80 is a workhorse for anyone doing a 4K show – it does everything natively in 4K, and also preserves 10 bit and 12 bit video content quality. It's also great for shows that mix and match formats because of its flexibility in incorporating multiple signals at different formats. At Cvent CONNECT in addition to handling projectors and live cameras, the X80 was able to bring in 4,000-pixel widescreen PowerPoint files on a single input channel and utilize those files on a single layer."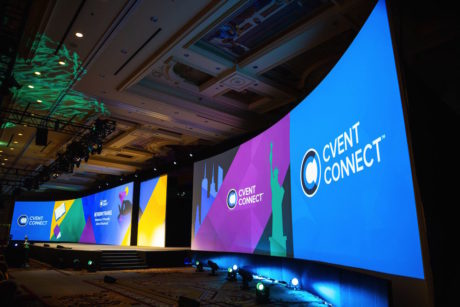 Another plus was the X80's multi-viewer feature. It allowed High Resolution Engineering's Spyder engineer to supply four fully customized multi-viewers for himself and others to confidently monitor and manage the show.
"Although major upgrades have been made from the X20, the Spyder X80 software, "Spyder Studio" has maintained the programming workflow and look and feel so it's very easy for X20 operators to get into the new system and learn it very quickly," Taylor adds.
"This was our first time working with the X80, and we were very impressed by its capacity and how well it handled everything," reports Hatim Sorkati, Business Development Director for AV Concepts. "The X80 gave us flexibility to switch the screens as the display configurations demanded. And it easily connected to AV Concepts' Liquid Scenic media server to input content. The multi-viewer feature allowed us to get a quick overview of program and preview content. It was a big help for our stage and content managers."
"The X80 exceeded expectations," says Taylor. "It worked as designed to ensure that everything ran smooth and seamless."
Leave a Comment: