Live IP Switching using Panasonic's brand new IT/IP-centric Platform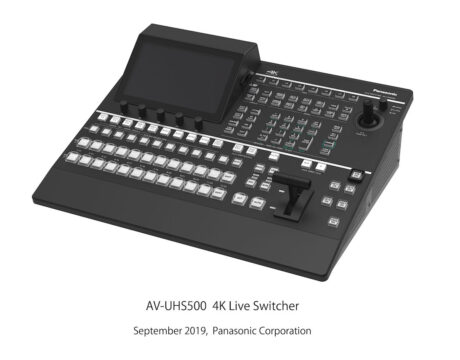 WIESBADEN, DE.  – Panasonic will be demonstrating its groundbreaking innovations in broadcast technology at IBC 2019 bringing together the best of its new generation Live IP Switching solution, 8K ROI camera and 8K organic sensor capabilities and its latest 4K Switcher.
More details from Panasonic (www.panasonic.com):
Panasonic will be presenting its brand new, IT/IP-centric platform at IBC, before the product is launched in 2020. This new generation system is not a dedicated tool: it is based on an open software architecture and will bring ground-breaking innovations to many markets in the video industry, starting with a very powerful broadcast video switcher.
This platform is fully resolution and format-independent and based on the latest technology in software and CPU/GPU processing, allowing users to allocate processing power with 100% efficiency and achieve performance levels currently impossible with traditional hardware-based products. It offers uncompressed processing, true uncompressed 4K inputs and full support of baseband and IP signals (such as ST2110 and NDI) at the same time. Fully embracing the latest IP technologies, the platform is also ready for Remote Production and can be integrated in a full IP-based environment.
Thanks to a very intuitive, extremely well designed GUI and fully customizable interface, this platform sets a new standard of usability for customers, allowing them to manage an unlimited number of video layers. And along with the support of virtually any kind of signal in a single server, the platform offers super low 1-frame latency processing, making it an extremely powerful tool in all contexts and applications. It is the perfect solution for a smooth transition to the IP world and offers a new level of flexibility and control.
"This new modular and open architecture platform is a game-changer for many customers involved in high-quality video production and delivery, either live or in the studio, allowing customers to optimize and future-proof their investment whilst maintaining the ultimate in flexibility," said Andre Meterian, Panasonic EMEA Director at the Professional Video Systems Business unit. "The Live IP Switching application is just the start for this new platform. Its video processing architecture allows users to build and run any kind of application. In the near future, this new platform will be at the heart of video production, being used as a video processor, scaler, mixer or server. There is simply no limit to what can be achieved with this one platform for many applications."
Leave a Comment: