Macroblock: Our HDR Will Be a Feast to The Eyes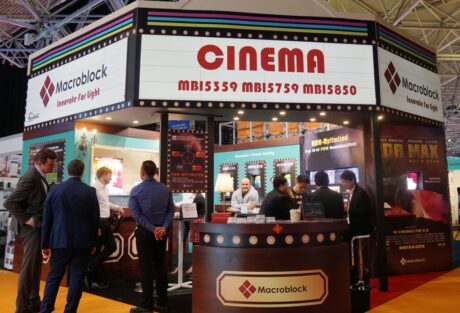 Macroblock's booth at ISE 2019
AMSTERDAM – It's the start of Chinese New Year and as we gather around our living rooms with our bellies full, there seems to be a nagging feeling that though our bellies are satisfied, we can't say the same for our eyes. It becomes important to ask, are we content with what we see on screen?
More details from Macroblock (http://www.mblock.com.tw/en):
ISE 2019, the world's largest AV system integration show, begins the same day as this joyous festival, and Macroblock's "HDR feast" is sure to please one's eyes in every way, making up for the lack of quality displays we see around us.
The LED display industry has long been attempting to enter the cinema market. However, the supply chain understands that the challenges are immense as we will need to take an enormous step forward to surpass current visual performance standards before we can replace today's mainstream projection solutions. In light of the need for a breakthrough, LED display makers turn their attention to the latest buzzword in the industry: HDR. Achieving HDR content thus becomes a critical milestone for all in order to enter high-end display markets. Targeting this trend, Macroblock came up with "HDR-Optimized," a specification for driver ICs to demonstrate the most outstanding HDR visual performance for LED displays. These display solutions can be found exclusively at our booth—the Macroblock Cinema,—giving visitors an experience like never before.
"HDR-Optimized" driver IC solutions
The industry's interest in fine-pitch LED displays can be dated back to 2012. However, the focus has since shifted from reducing pixel pitch sizes then to realizing HDR visual performances now. Macroblock's Marketing Director, Kurt Tsai states "To meet the requirements in realizing HDR in LED displays, we have proposed 'HDR-Optimized' driver IC specifications to achieve true 16-bit PWM resolution (grayscale output) and 4KHz refresh rate at the same time. At present, Macroblock's MBI5359 (suitable for ultra-fine pitch LED displays, pitch ranging from 0.6mm to 1.5mm) and MBI58501 (suitable for common fine-pitch LED displays, pitch ranging from 1.2mm to 6.0mm) can meet the specifications for a 32-scan design. Displays can meet three major visual performances benefits such as having a higher contrast ratio, more details at low grayscale, and higher color depth in the same color space when using our 'HDR-Optimized' driver ICs. Everyone is welcome to learn more at our booth."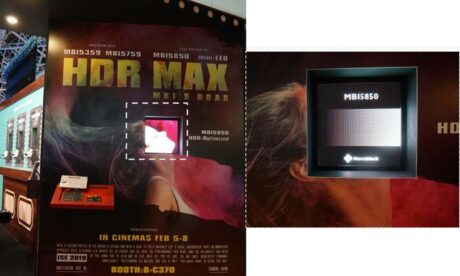 MBI5850 supports "HDR-Optimized" specifications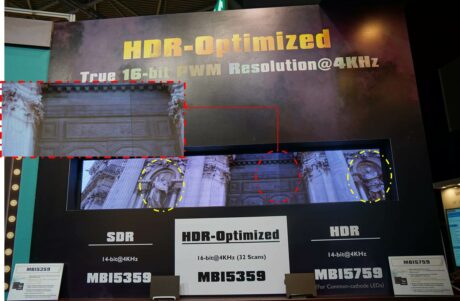 "HDR-Optimized" visual performance
"What we see on screen will be a closer representation to our actual surroundings" is our goal in the display realm this year. To achieve this goal, we will need to ensure image details as well as subtle changes in light and shadow are being captured in order to more closely resemble what human eyes can see. To demonstrate this, Macroblock uses three LED cabinets of varying display levels. The cabinet on the left, resembling the mainstream visual performance we see, uses a SDR video source (8-bit) input with a 14-bit PWM resolution. On the other hand, the cabinet on the right uses an HDR (10-bit) video source input and a 14-bit PWM resolution. Though this is HDR, it does not represent by far the highest HDR visual performance as seen from our "HDR-Optimized" driver ICs in the center cabinet which is capable of converting an HDR (10-bit) video source input to a 16-bit PWM resolution.
To explain the differences, let's compare the visual performance2 between the cabinet on the left and the one on the right. Looking at the parts circled in yellow, it is obvious that in terms of the image details both at low brightness and at different contrast levels, the quality of the image seen on the LED cabinet with an HDR video source exceeds the one using a SDR video source. For instance, details of the statue at low brightness are preserved when using an HDR video source. When we compare the parts circled in red, the center cabinet with the "HDR-Optimized" solution3 performs better than the right cabinet, showing details of the carvings on the architecture, giving us more image details and thus, bringing us closer to the goal of representing our actual surroundings on the screen.
MBI5850 will be launched in 2019 and will be the second LED driver IC that supports "HDR-Optimized" specifications. With a Scan-sharing architecture and a SSOP package, MBI5850 is especially suitable for rental applications.
The difference between the left and the right cabinet is the video source input
The PWM resolution (output) is different between the "HDR-Optimized" cabinet and the right cabinet.
"HDR-Optimized" solutions use NovaStar MCTRL4K controller
Prepare to be awed by our mini-LED
At Macroblock's Cinema, one of the most eye-catching demonstrations is none other than our mini-LED1 wall (P0.75). Its rich colors (color space is 150% REC.7092) and high contrast (25,500:1) stun every visitor. The level of details the mini-LED wall can capture is exceptional. Moreover, since the mini-LED display has an extremely fine pixel pitch, there is no granular texture found in common fine-pitch LED displays nor is there bezel issues common with LCD screens. The visual effect is better than current SMD LED solutions, allowing viewers to immerse in the visual experience easily.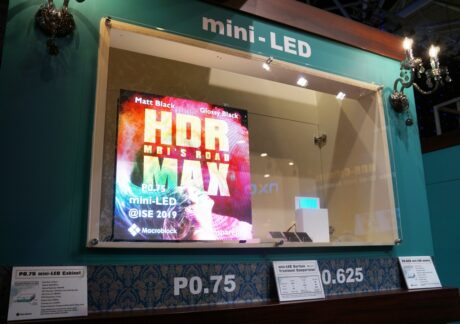 Different surface treatments to meet diverse application needs
For anyone who has seen our mini-LED demonstration, it is obvious that different cabinets seem to have different brightness levels. Macroblock's General Manager, Robert Chen explains, "As we are more familiarized with the different mini-LED applications now, we have provided different surface treatments (matt black/glossy black/transparent) to meet the diverse application needs. For example, the reflection rate of matt black surface treatment is lower (Table 1), meaning that the content shown on the screen will not be easily affected by ambient light causing it to appear blurry, making this material suitable for places with complicated ambient light, such as in broadcast rooms. This feature has received a lot of attention and currently, we are assisting our partners in selecting solutions that best suit their needs."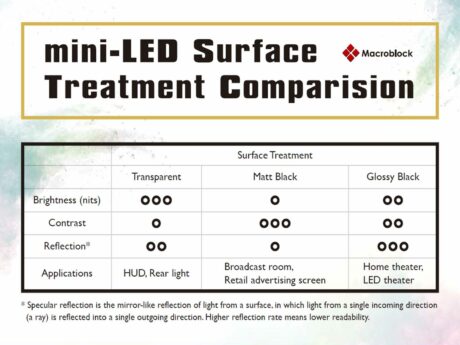 Table 1 Comparison of the different mini-LED surface treatments
In addition, we have also demonstrated P0.625 mini-LED solution which targets finer pitch applications and is closer to the needs for commercial markets. Even if it is only 60 cm2 in size, the small pixel pitch provides us with an incredible image quality.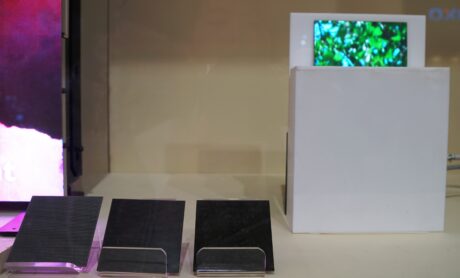 P0.625 mini-LED brings an incredible image quality
Macroblock's mini-LED solutions use MBI5359 LED driver ICs
The color space of SONY CLEDIS is 140% REC. 709
Focusing on indoor application unmet needs, the Dynamic+ function helps reduce power consumption and surface temperature
In order to replace LCD screens with LED displays for indoor applications, heat management and lower power consumption become important factors to focus on. Both MBI5359 and MBI5850 have the Dynamic+ power-saving function that can reduce power consumption effectively. While MBI5359 and MBI5850 are effective in reducing power consumption, this year, Macroblock has launched MBI5759 for common-cathode LEDs, making it the best power-saving solution. Due to its architecture, it uses a dual power supply and also carries the Dynamic+ power-saving function. Looking at our experimental data1, the surface temperature of MBI5759 module is lower than the MBI5359 module (disable Dynamic+) by 11%1. LED displays with a lower surface temperature are ideal for indoor display solutions because even when used for a long period of time, the surface temperature of the display will not overheat, causing indoor temperature to rise thus resulting in the audience's discomfort.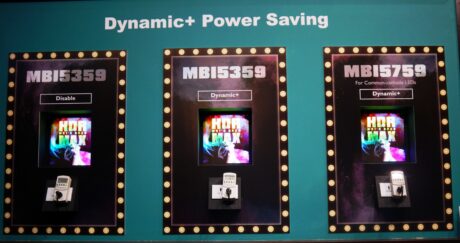 MBI5759 (for common-cathode LEDs) is the best power-saving solution
The image shown on the LED module used for our experiment in measuring the surface temperature is the same as that at Macroblock's Cinema
MBI Set-top box extends LED display value
Macroblock also cooperates with display maker, Transtech(8-E470), and video system integrator, TRUE PERFORMANCE (12-H20), to show "Precision Marketing Set-top Box " which focuses on users and customers experience. Precision Marketing Set-top Box is embedded IoT that helps to add value to LED displays such as remote advertising dispatch function and cloud management. In addition, the Set-top Box can use the business intelligence system to actively collect valuable data of use to advertisement owners and interact with viewers by displaying ads that may be of interest to them. With a built-in facial recognition feature, Precision Marketing Set-top Box can gather relevant data such as the audience's demographics, dwell time in front of the display, and standing distance from the display to name a few. You can visit Transtech and TRUE PERFORMANCE 's stands to know more about MBI "Precision Marketing Set-top Box ".
Leave a Comment: