MindBlown Toledo Makes its Debut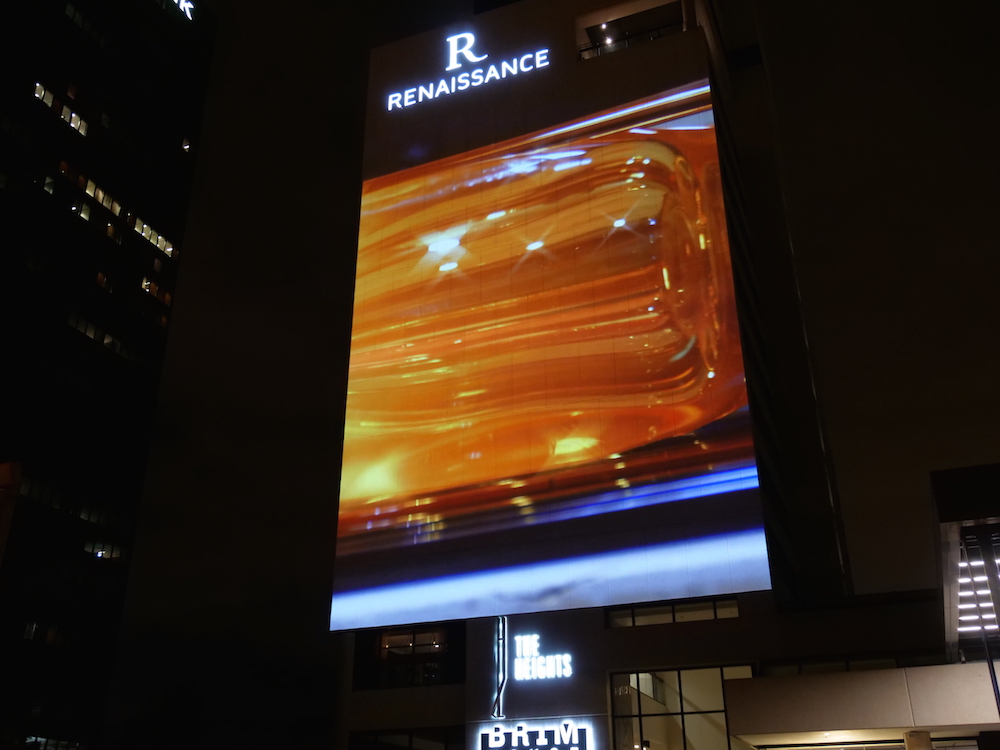 TOLEDO – Integrated Visions and First Hospitality Group are pleased to announce MindBlown Toledo, a 6,000 square foot digital mural projected nightly onto the façade of the Renaissance Hotel in Downtown Toledo, Ohio.  This monumental public art installation, the only permanent outdoor installation of its kind in the US, will showcase a variety of site-specific digital murals on a 90ft tall projection mapped video display.  The artworks will feature explorations of the glass industry processes and the creation of glass artwork, interwoven with related animations that combine vivid imagery, stunning effects, and spellbinding illusions. Future works will evolve to include different glass works artists and awe-inspiring, fun presentations that will bring the child out in anyone.
More details from Integrated Vision ( www.mindblowntoledo.com):
In 2016, nationwide hospitality leader First Hospitality Group (www.fhginc.com), under the leadership of Chairman Steve Schwartz, had the inspiration to create a unique artistic installation on FHG's newest property, the Renaissance Toledo Downtown, using the cutting-edge medium of video projection mapping.  In the year that followed, Steve and his Chief of Staff, Sam Schwartz, engaged projection mapping artists Integrated Visions (www.integratedvisions.net, @IntegratedVisions) to design the display. The team formed an inclusive coalition from across the Toledo community, including Toledo Mayor Wade Kapszukiewicz's Office, The Arts Commission, Toledo Museum of Art, local artists and local sponsors whose in-kind donations helped to create the project's infrastructure.
"We didn't want to just build a beautiful hotel for Downtown Toledo, we wanted to create a place that truly belongs to this community, is part of the fabric of the city and is reflective of its beauty and rich history," said Sam Schwartz, who spearheaded the project for FHG. "Through the artistry of our partners at Integrated Visions, 'MindBlown' tells the story of a city on the move."
In addition, one of the largest investors in the Toledo area, non-profit medical system ProMedica (www.promedica.org) provided major support for the project.  "As a mission-based healthcare provider for northwest Ohio and southeast Michigan, we understand that the wellbeing of the people we serve is clearly linked to the health of their communities," said ProMedica President and CEO Randy Oostra. "And we know the dramatically positive impact public art has on the development of healthy cities. So it was important to us to support this stunning public art project, of which all of us here in Toledo can be very proud."
To complete this ambitious public art project, Integrated Visions used state-of-the-art projection mapping technology to seamlessly merge and blend 6 high-powered projectors, turning the hotel's facade into a massive digital canvas.  One of the first permanent outdoor projection mapped installations in the US, MindBlown Toledo was made possible by contributions from ProMedica, First Hospitality Group, GEM Construction, Lathrop Construction and VM Systems.  Integrated Visions partnered with Atlanta's ASW Inc. (www.aswav.com) and projector manufacturer Christie Digital (www.christiedigital.com) for engineering, systems integration, and installation support on this challenging project.
For this installation, six Christie D13HD-HS 13,000-Lumen HD projectors are merged and blended in two triple-stacked zones to create a 90' x 65' projection surface on the facade of the Renaissance Hotel.  The installation is run by Christie Pandora's Box media servers (www.coolux.de) and utilizes Christie's new Mystique camera-based blend and warp software for pixel perfect alignment (www.christiedigital.com/mystique). Christie Mystique Install Essentials Edition helps keep the system calibrated and looking great each night with powerful automatic re-alignment tools.  Atlanta's ASW Inc. provided systems integration, engineering, rigging, and wiring for the entire installation, as well as programming for the Crestron control and automation platform.  Additionally, Kevin Morris from the Christie Pandora's Box team was on-site to program and setup both the Pandora's Box media servers and the new Mystique software.
All six projectors for this installation are housed in a single custom-built weatherproof outdoor enclosure fabricated by Toledo's VM Systems and collaboratively designed by VM Systems, ASW, and Integrated Visions.  With integrated filtration, a motorized jam and seal backdraft damper, over 2150 CFM of bottom-to-top airflow on a two-stage thermostatically-triggered system, and 2400 watts of distributed radiant heating power, this enclosure is designed to protect the equipment against Toledo's brutal winters while effectively dissipating the 26,000 BTUs of heat produced by the six projectors in both winter and summer.  Combined with the Crestron CP3N controller, this system is able to constantly monitor temperature and humidity, ensuring safe operation despite constantly changing weather conditions in Toledo.
Beginning June 28, 2018, MindBlown Toledo will debut with "Directions" and "Refractions", collaborations between Integrated Visions and studio glass artist Leo Tecosky (@anserglass). To create "Directions", Integrated Visions captured ultra high-resolution footage of the glassblowing process as Leo created an original piece of glass art in his studio. Integrated Visions utilized this footage as a starting point to create a captivating abstract work exploring of the process of glass blowing. In "Refractions", Integrated Visions used a 3d scan of the sculpture Leo created in "Directions" as a floating centerpiece behind a mesmerizing wall of slowly moving glass tiles which refract and reflect the beautiful colors in the glass sculpture as light passes through.
Leave a Comment: