New Place, New Face, New Name – IA Stage is Rolling Out a New Brand Identity.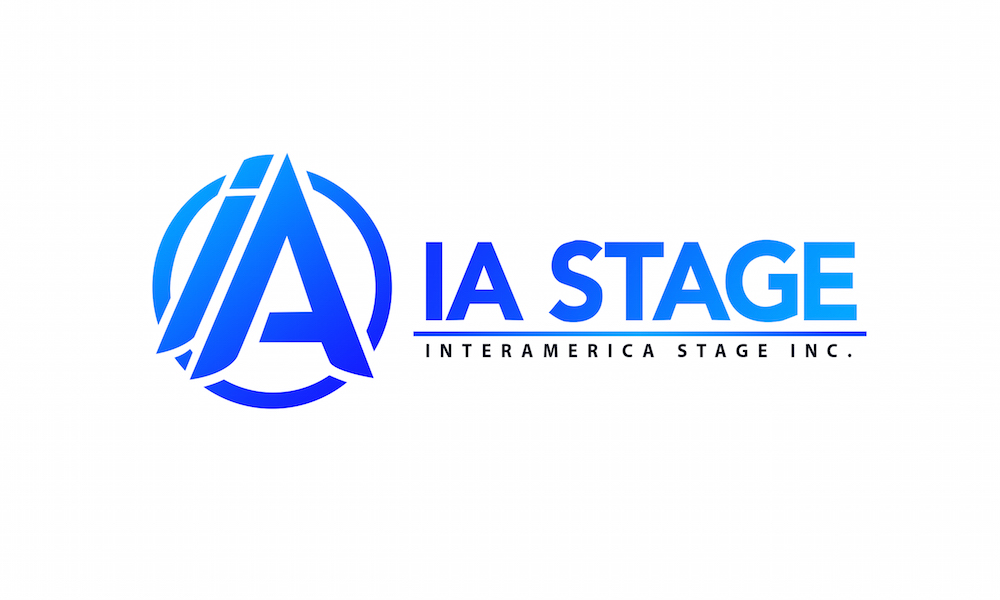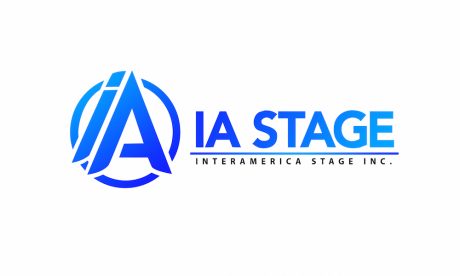 SANFORD, FLA. – There's some exciting stuff going on at InterAmerica Stage, Inc. Building on the momentum that started with the company's 2017 move to a larger, more agile facility, IA Stage is rolling out a new brand identity. "The new look represents our commitment to continuous improvement," says founder/president Mark T. Black. "Our goal is to make every aspect of what we're doing a little bit better each day."
More details from IA Stage (www.iastage.com):
The new look starts with an updated logo, which embraces the familiar way clients refer to the organization. "Everybody we work with calls us IA Stage," says General Manager, John Gitzy, laughing. "Heck, we even call ourselves IA Stage!" The new logo and branding theme were created by Black's son, Andrew, who is a professional illustrator and animator.  The new logo was deployed at the beginning of 2018. The design incorporates aspects of the original logo, also of Andrew's design. "The blue ring behind the 'IA' is a direct reference to the three rings in the old logo," says Andrew. "I liked how they pointed so directly to the company's heritage and wanted to keep that element in the new design."
The emblem features a dynamic range of blues blending seamlessly into one another from a crisp, bright cobalt/turquoise to a deep indigo. "The color gives an industrial look to the logo that points to the engineering that goes into everything that IA Stage produces," Andrew says. The heavy, more compact font style used in the original logo was also updated to a lighter, more open style. The curved feet of the "IA" mirror the arc of the blue ring behind the letters.
IA Stage has been busy integrating the new brand identity into all facets of the company's public presence, from letterhead to email signatures to social media. To augment the branding efforts, the company launched a brand-new website at the end of April. IA Stage chose Orlando-based web developers Designzillas to make the new site. Goals for the new site included a clean, modern design and cross-platform functionality. Focus was placed on a straight forward, streamlined user experience.
"We want people to visit our website and find something useful," said Marta Peliwo, Marketing & Trade Show Coordinator. "Our old site was starting to look like a bulletin board and our identity was getting lost in the clutter." Gone are the dated black background and heavy blue text.  Instead, users will find a clean, easy-to-use site that highlights IA Stage's work through images.
Rather than asking users to scroll through long lists of products and services, the new design utilizes easy navigation with hover states that mirror the darker blues of the new logo. Peliwo says, "Visitors can explore the site without getting lost, or they can cut to the chase and go directly to what they're interested in.  Nothing is more than two to three clicks away."
Corporate Bio
A company is more than a collection of people. InterAmerica Stage, Inc. doesn't just collect people. We collect the right people. The individual creativity and passion within our ranks is what makes us relevant. You'll find structural designers, technical directors, and project managers from the theatrical industry; engineers, designers, and draftsmen from the aviation and construction industries; as well as rigging, automation, mechanical design and projection specialists from the themed entertainment industry. Bottom line? People matter. Our talented staff is the most valuable resource we have.
IA Stage provides a wide variety of services for a wide variety of clients. With a reputation built on excellent service, our work can be seen in theatres, broadcast studios, and theme parks around the world. In addition to custom design and fabrication, we're also very good at Artifact Handling, Design/Build Construction, Fall Protection, Historic Renovation, Machinery Installations, Powered Rigging, Projection Systems, Rigging/Material Handling, Scheduling, Show Automation, Fabrication and Erection, System Maintenance, and Theatre Equipment Inspection. But we can (and do) just about anything.
Websites
Leave a Comment: