New Product Specialists to Drive Visual Effects Advancements at Notch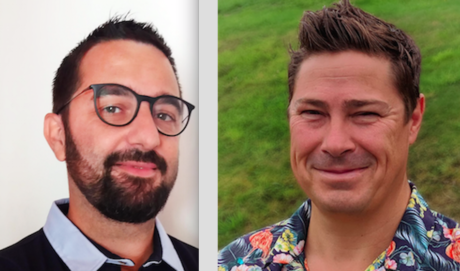 LONDON – Notch, the visual content creation tool that works entirely in real time, today announces the appointments of Adrien Ravelli and Will Smith as Product Specialists. The two combined have over three decades of experience in 3D visualization, motion graphics and the gaming industry.
More details from Notch (www.notch.one):
Adrien Ravelli is a self-taught computer graphics artist with over two decades of experience in 3D and real-time graphics.
Ravelli joins Notch after having authored several impressive real-time graphics demonstrations and was the winner of the first-ever Notchmeister competition. The audio-reactive effects competition held in March 2018, required entrants to produce a 30-second piece using sound reactivity with a specified audio clip.
Will Smith joins the team from 4 Point Studios — a company he founded to focus on photorealistic 3D rendering of architectural projects using the Unreal Game Engine. During his time at 4 Point Studios, he took traditional architectural plans and turned them into virtual buildings that can be explored on mobile hardware.
Prior to this, Smith built his reputation as an accomplished lead environment artist in the games industry working with Rocksteady Studios, Epic, Warner Brothers, Bioware, Eidos and NVIDIA on several award-winning AAA titles, including leading the art team for the Batman: Arkham trilogy of games.
The appointments follow a previous announcement of Bent Stamnes, the new head of marketing at Notch. The company continues to grow and innovate with their content creation tools. Used in concerts from Ed Sheeran to Katy Perry, in installations for Adobe, Intel & IBM and stage shows such as Cirque du Soleil and Frozen on Broadway.
Adrien Ravelli, Product Specialist at Notch, comments: "I look forward to sharing my experience with Notch and real-time 3D graphics with users from all around the world. I can't wait to help even more people discover what they can do with Notch."
Will Smith, Product Specialist at Notch, comments: "I feel extremely privileged to be joining the Notch team. Having worked with them in the past I was delighted to have the opportunity to join such an elite and talented group of people. I am looking forward to finding solutions to the challenges we face with real-time motion graphics, VR, and visual effects."
Luke Malcolm, director at Notch, says: "Notch's use has spread into a much wider set of applications. Supporting our users as they continue to push the boundaries means we're hiring experts in a range of disciplines. Will's background in both artistic and realistic scenography and Adrien's deep skills in motion graphics add to our team at a perfect time of growth."
"We're thrilled Will and Adrien are joining the team. With their extensive experience, they will help accelerate and push the creative boundaries of how Notch can be used."
Leave a Comment: