NoSlate Partners with SAP to Create One of a Kind Marketing Hubs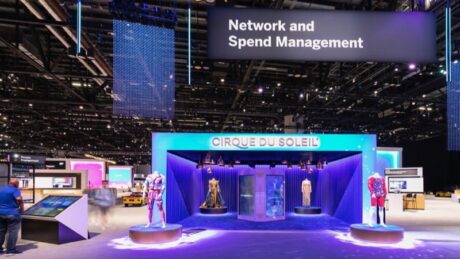 LOS ANGELES, CA – Attendees at the SAP SAPPHIRE NOW/ASUG conference (Orlando, FL May 7-9), as well as at recent SXSW got to showcase their basketball skills in the NBA Ultimate Training Camp Experience, a triumph in experiential marketing co-sponsored by SAP and Under Armour, and featuring extensive visual effects, digital animation, interactive design, projection mapping and LED screens headed by creative content production/post studio NoSlate Productions.
More details from NoSlate (www.noslate.com
A singular live user experience that is both fun, and also tells a subtle yet important SAP story – that capturing and analyzing data from a variety of sources can help anyone improve their performance.
In addition to the NBA Ultimate Training Camp Experience, NoSlate also oversaw production on a second branded user experience involving running that highlights how SAP, and its recently acquired Qualtrics Experience management software, helps Under Armour understand each runner's personal needs and experience to design the perfect running shoe for them.
Million Square Feet of Experiential Brand Engagement:
At SAPPHIRE NOW, the NoSlate creative team led by Creatives Jeff Reed and Danny Zobrist, also delivered a number of customer showcases for such global brands as Kate Spade, Coach, Stuart Weitzman and Cirque du Soleil. Working closely with each of the brands, NoSlate helped bring each customer story to life in unique and engaging ways.
An immersive experience at the center of the 1 million square foot exhibition space, including LED Walls, floors, time code synced ceiling fans and spatial audio, introduced the main SAP messaging in an unforgettable way.
"Despite a late change in direction for our central showcase, it turned out as one of the best loved and most immersive activations we've had thanks to NoSlate's collaborative approach and ability to deliver under tight deadlines," Johann Wrede, SVP, Head of Global Events for SAP Global Marketing, says.
SXSW Success:
Philip Smeed, SAP Creative Director notes that at SXSW NoSlate needed to create an experience designed to appeal to an entirely new demographic.
"In a prime location directly opposite the convention center, SAP wanted the exterior patio to attract as much attention as possible to encourage people into the SAP House. The two activations produced by NoSlate show how SAP works with Under Armour to help athletes, and their company, run better."
Using motion sensors from Microsoft Kinect and Lidar aerial sensors, the immersive 45-second NBA Training Camp Experience challenges players to shoot from a number of locations on the court, all of which are highlighted on a touch sensitive LED floor. Animated reactive content responds to every move. Sensors track the player's real-time position and performance as compared to NBA stats using SAP's HANA database management tool. When it's over, footage of your game experience is dynamically edited automatically and sent to the player.
"The most challenging aspect of this project was bringing backend software systems to life, and simplifying the complexities into a streamlined and engaging visual experience," Reed notes. "For SAP's first appearance at SXSW we wanted the  'wow factor' and because we had great partnerships with Under Armour and the NBA, as well as our technical partners, that's what we delivered."
Leave a Comment: