ADJ's New IP-Rated Multi-Function Wash / Strobe / Audience Blinder Now Shipping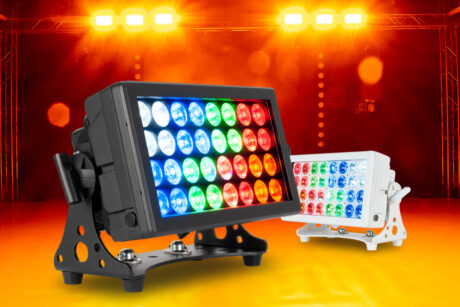 LOS ANGELES – ADJ is proud to announce the immediate availability of the new 32 HEX Panel IP and 32 HEX Panel IP Pearl. These truly flexible high power LED fixtures offer multi-function wash, blinder or strobe operation from a compact IP-rated unit. This makes them ideal for a wide variety of professional lighting applications including concert stages, nightclubs, festivals and other outdoor events.
More details from ADJ (www.adj.com):
The 32 HEX Panel IP features a sleek black housing, while the 32 HEX Panel IP Pearl boasts an eye-catching all-white finish. Both versions offer the same powerful arrangement of LEDs and comprehensive feature set as well as the same robust build quality. With an all-metal construction and sealed design – rated to the IP65 specification – the inside of the unit is protected from liquid, moisture and dust. This not only means that the fixture can be safely used for both permanent and temporary installation outdoors, but also that it requires a reduced maintenance schedule.

Each of the 32 HEX Panel IP fixtures is loaded with 32 extremely powerful 12W HEX color 6-in-1 (red, green, blue, white, amber +UV) LEDs. This allows the units to generate an intense output as well as an almost limitless color palette ranging from bold saturated hues to soft subtle shades. Lighting designers can achieve the exact color to fit with their artistic vision at any given moment and can also easily match the light output to that of other fixtures that may also be in use – such as moving heads – which are limited to a finite selection of colors.
The LEDs are arranged in an 8 x 4 array, which is divided down into eight groups of four. Each of these groups can be controlled independently, allowing for the creation of dynamic 'eye candy' effects within a single unit as well as for pixel zone control when integrated into a larger pixel-mapped lighting system.

A standard beam angle of 24-degrees makes for an intense wash that is ideal for illuminating a specific venue feature or a tight area on stage. However the units are each also supplied with a removable filter frame that can be used to widen the beam angle using a diffusion filter (included). The filter frame attaches to the front of the fixture using strong magnets, which makes it extremely easy to fit, remove and reattach. A Barn Door attachment is also available, as an optional extra, which can be used to precisely direct the light output when the fixture is used for theatrical or décor lighting applications.
Thanks to both the impressive brightness and cool white element of the HEX LEDs, the 32 HEX Panel IP units can be used as extremely effective traditional strobe fixtures. With their variable speed digital strobing feature they are capable of generating an intense strobe effect that will cast right to the back of even the largest of rooms. The fixtures' full RGBWA+UV color mixing potential can also be utilized when used as strobes, making them ideal for adding a further dimension to EDM events or high-octane rock shows.
The LEDs' amber element, again combined with the fixtures' high output, means that the 32 HEX Panel IP units can also be used to achieve classic 'audience blinder' effects when mounted facing out from a stage towards the audience. This, combined with the fixtures' strobe and pixel mapping capabilities as well as their weatherproof casing design, make them ideal for use on festival and other outdoor performance stages where lighting designers can use this one type of fixture to generate a variety of very different effects.

Despite their powerful output, the fixtures are relatively compact and remarkably light-weight – especially considering their heavy duty construction. With dimensions of 13.75"x 9" x 6.75" / 350 x 230 x 170mm and a weight of just 24.25 lbs. / 11kg., each unit is extremely portable and convenient to rig. Their integrated mounting brackets can stand directly on the floor or attach to a clamp or omega bracket for rigging in any orientation. The bracket's tilt mechanism features a sure-lock system with teeth at 10-degree intervals that lock into place ensuring that, once positioned, a fixture can't slip and lose its focus position.
Professional caliber locking Seetronic Powerkon IP65-rated sockets provide power input as well as output for linking power to another fixture and the units are each also fitted with IP65-rated 5-pin DMX input and output sockets. All four sockets are supplied with protective rubber covers for use when no plug is connected and the 16-character OLED display screen mounted on the back of each fixture is paired with waterproof touch-sensitive selection buttons.
The fixtures offers a variety of DMX channel mode options, allowing users to select the most appropriate compromise between required channels and control flexibility. The simplest option requires just six channels and provides color mixing for each of the six primary LED colors across all 32 LEDs. Meanwhile, the most complex option allows both independent RGBWA+UV color mixing for each of the eight zone segments, along with master dimmer and strobe functionality, as well as access to the unit's pre-programmed chase effects, with control over speed and fade time, allowing for quick programming of complex shows.

"The latest additions to our range of IP65-rated professional entertainment lighting fixtures, the 32 HEX Panel IP and 32 HEX Panel IP Pearl, are both incredibly potent and extremely flexible," comments ADJ USA's National Sales Manager, Alfred Gonzales. "Their sealed design ensures that the units are protected from dust, sand, moisture and liquids, which not only means they can be used outdoors in wet or dusty conditions but also that their internal components are protected from contaminants, reducing the need for servicing and increasing operational life. This, paired with the fixture's multi-functional nature, makes it the ideal LED wash unit for production companies and rental houses, while it is also perfect for permanent installation in a wide variety of leisure and entertainment venues."
The 32 HEX Panel IP and 32 HEX Panel IP Pearl fixtures offer vibrant color washes, eye-catching pixel chases, intense strobing and powerful audience blinder effects, all from a robust, IP65-rated, compact and lightweight fixture. They are available now from ADJ subsidiaries and distributors worldwide.
Leave a Comment: