PaintScaping Prepares for Second Annual Sedona Northern Lights Holiday Spectacular with Support from Alcorn McBride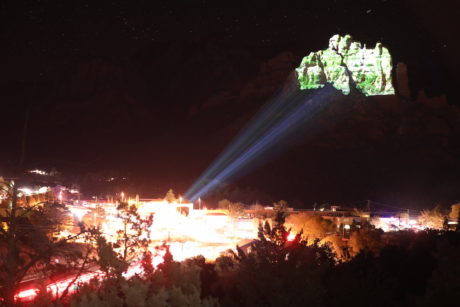 ORLANDO – For a second year LA-based PaintScaping will bring its expertise in large-scale 3D projection mapping to the Sedona Northern Lights Holiday Spectacular.  Running from December 13-16, the production is the country's largest projection show on a natural canvas – Camelhead Rock in the famed red rocks of Sedona, Arizona.  PaintScaping will create a massive 3D light projection showcasing the magical landscapes, captivating dark skies and thriving art scene of the area. The show will be staged four times each night over the four-day period.  Spectators can tune to KAZM 780AM radio for music to accompany the dynamic light show.
More details from Alcorn McBride (www.alcorn.com):
The 2018 Holiday Spectacular will feature a new story about the childhood of Sedona, the woman – and wife of the town's first postmaster – for whom Sedona is named.  In the tale the girl dreams that she visits Santa's workshop, and spectators will see her dream played out on the side of Camelhead Rock.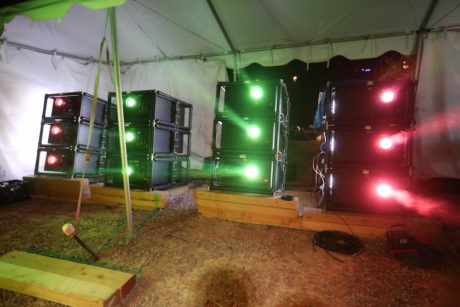 "When I did the show last year I had never mapped a mountain before!" says PaintScaping CEO Philippe Bergeron.  "This is the biggest holiday mapping show in the US, and I can't wait to return for year two."
"We'll largely follow the same process we used last year in terms of equipment," says Bergeron.  "We'll have 12 32K laser projectors and two Alcorn McBride A/V Binloop HD video players, one active and one back up.  The 1.1km throw distance to the mountain may be a world record in projection mapping.  The canvas itself measures 600 x 350 feet.  So we need a lot of firepower."
He values the Binloop's "strength in simplicity" and the video player's "ability to synchronize media.  For the Holiday Spectacular we have four quadrants each with three projectors taking the same feed, and the Binloop has to perfectly synch the quadrants.  The Binloop also has to drive the soundtrack synchronization, which is broadcast over the radio."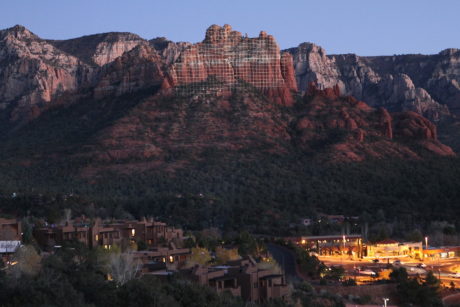 He points out that, "Alcorn makes good machines for hostile environments because they use solid-state construction without moving parts," an important consideration for Sedona where Bergeron and his team are "subject to the desert wind and sand."
Bergeron calls the Alcorn McBride Binloop "our media player of choice over the last few years.  We've done many high-level projects with Binloop, including jobs for Porsche, Pharrell Williams and Louis XIII Cognac, the LA Dodgers, the New York Public Library, Tiffany and Ariana Grande.  The Calvin Harris-Rihanna music video we did, 'This is What You Came For,' is perhaps the most visible projection mapping ever with over two billion views and counting!"
Leave a Comment: