PLSN's Prolight+Sound 2019 Show Report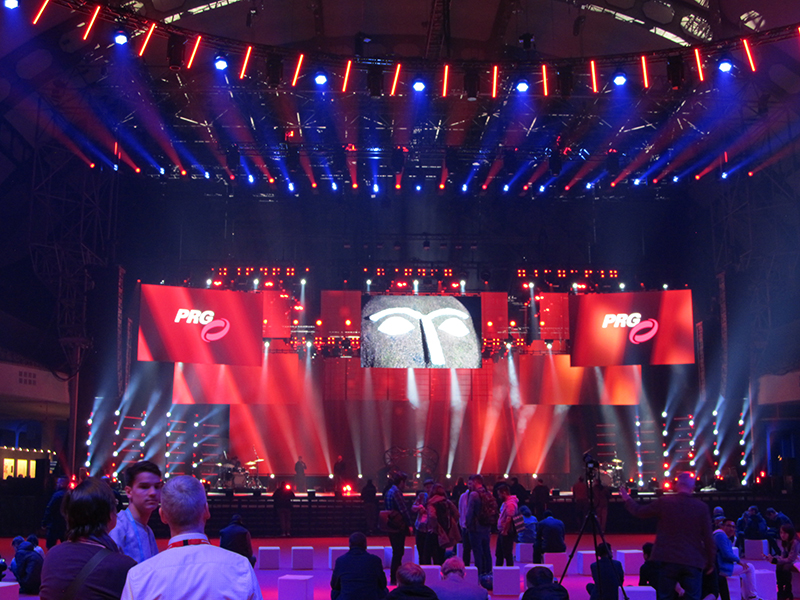 The Prolight and Sound show returned to Frankfurt, Germany this year in grand style with a new exhibition hall for the lighting world. Held from April 2-5 this year, the event drew over 85,000 attendees checking out the latest gear. Half of the patrons were from outside of Germany, representing 130 different nations.
With InfoComm right around the corner, PLSN chose to check out and report on the latest lighting, laser, safety and software programs, while leaving the video related companies to our July issue. The good news is that the new hall is two stories high and all of our favorite vendors were centrally located, not spread through multiple buildings.
Each year I find three things that just stand out from the crowd. While I like almost everything on the floor, some things raise my eyebrow and crane my neck a bit more. They are few and far between, but something I feel is breaking ground in our industry.
Technologically speaking, Claypaky deserves heaps of praise for their groundbreaking research and development of the first laser sourced moving light fixture. Partnering with Osram has been a huge success as the new Xtylos Beam light drew standing room only crowds the entire time. Besides the light source it's a great quick beam light that does a lot.
Personally, my favorite new lighting fixture I can't wait to play with isn't even done being developed yet. Hidden in the bowels of the hall, yet in plain sight was the SGM G-7. A searchlight type beam prototype with some extra features that will melt faces and attract LDs.
Lastly, I stopped by the ETC/HES booth. The TurboRay is a cool retro looking fixture and drew lots of attention, as did the Releve. But what the geek in me liked was this new feature on the EOS console. They have a system, that once dialed in allows a user to walk on stage and through an app on their phone just say, "Find Me" and the specific fixture called up will focus on you.
The best open ended looking booth on the floor goes to ADJ in my opinion. Robe deserves kudos as well for a Lost World themed booth to celebrate their 25th year. Between them and Chauvet's partying booth next door there was quite a log jam at the opening of the hall. Elation's newscaster approach to showcasing gear was very clever.
Some fixtures that deserve a serious look include Chauvet's Maverick MK3 models, Elation's Proteus Maximus and Artiste Monet, Robe's T1 line as well as the Super Spikie. Lastly, GLP stunned (visually assaulted) passersby, offering many new fixtures, each of them adding another wow factor to their line.
Have a look below at some 50-plus booths of our friends at PLSN to see what they were displaying to the world this year.
AC Entertainment: This purveyor of lighting, video, audio and rigging products had a lot to offer. Particularly impressive is the StageCL, a lighting console designed to operate LED fixtures. They also offer a full gamut of Reel EFX Fans, Tourflex cabling, video panels, truss, chain hoists and more.
Adam Hall Group displayed their Cameo line, made "for lumen beings." The Opus series includes their versatile LED moving heads, and the new Opus S5 spot was on display. Cameo expanded its LED wash light series with the ZENIT W300 – an IP65 fixture with 21x 15W RGBW LEDs. The F series, meanwhile, features new LED Fresnels.
ADB's big news was the Ocean, an innovative lighting console, designed for theaters, opera houses and multi-purpose venues. The large 27-wide screen brings everything to the programmer's fingertips. Also on display: the Orkis Pebble Fresnel, which comes with a six-color LED system.
ADJ's Hydro Beam X2 is one of many IP65-rated fixtures they now sell. Other new items including the Entour2 Faze J5 smoke machine, the Hydro Wash X7, the Allegro Z6 and the Vizi Wash Z37 were on hand. The Hex series expanded from the 32 Hex Panel IP that was introduced at LDI to the new 15 Hex Bar IP, which contains the same LED cells in a linear array.
Altman Lighting is celebrating their 60th year as manufacturers. They displayed their AFS 7000 followspot as well as their Pegasus line of fresnels and Phoenix LED ellipsoidals. New this year is the AP-150 Par, an RGBW fixture with nine cells and a motorized zoom function.
Antari displayed smoke and fog machines including the DNG-250 for low lying fog. The S-500 snow machine is noted for its silent operation, while the M-7X, an upgraded version of the M-7 RGBA LED fog machine, provides bursts of smoke that can be colored by internal LEDs.
Area Four Industries' Litec, Milos, JTE, Tomcat and EXE can do it all. The Dynamic Stack Track system (DST) lets users lift up anything (LED wall) and trolley it across the stage to another position. EXE smart hoists were all on display as well as tons of truss products including the ground support system used in the booth.
Astera's new Helios Tube, a half-sized Titan Tube, was featured this year, bringing the Titan Tube's advanced features for TV and broadcasting to a smaller format. Also new is the ability for these tubes to be fed DMX through a separate power supply.
Atomic: The fabricators of awesome stage backdrops showed a wall lined with beautiful hard scenic pieces. Portable metal art pieces were self-standing, bent and molded in ways that made lighting them from within exquisite.
Avolites: Their Synergy system that integrates lighting and video, was live and in action. It should premier in the next couple of months. Released was the T2, a compact box that accepts USB and can spit out 2 universes of DMX, Art-Net or sACN. It supports timecode and MIDI commands as well.
ChamSys let booth visitors test their QuickQ consoles and also check out new software on the other consoles. A new timeline function on the touchscreen lets users see the music, easily sliding cues around the timeline to perfect timecode playback. The desk can play audio files itself and spit out commands as the source of a show's timecode.
Chauvet Professional released the Maverick MK3 Spot and Profile models. They feature an 820W white LED engine with a native color temp of 6800°K. The spot offers CMYC mixing, dual prisms and frosts as well as all the bells and whistles one can fit in this moderate sized, 75-pound fixture that boasts both compact dimensions and ample luminous output.
Chroma-Q: New this year is the Space Force onebytwo, a complement to its older larger brother and designed for smaller TV studios. It dishes out 600 Lux at 10 feet while being able to vary its color temperature from 2800-6000K. It uses 215 watts of power, includes an onboard PSU and frames for gels. Also on display was the Brute Force, for when a lot of light is required to film.
City Theatrical: The Multiverse SHoW Baby has expanded with the fifth generation of this DMX expansion box. This new model can control 10 universes of wireless DMX. It can also connect to the DMX Cat app on your phone for troubleshooting. Their wide range of beam control for products (think egg crates, iris units, etc.) is the best on the market.
Claypaky: The biggest news on the floor was the Xtylos, the first beam fixture powered by a laser. The medium sized light moves quickly and has great colors, while maintaining a flat field. With this system, colored light beams are as bright as a white beam. Also released — the Axcor Wash 600 and the Mini-B.
Columbus McKinnon: CM motors had reps on hand to go over their various line of lifts along with their control systems, showing the world why they have the knowhow and experience to lift anything, at slow, fast or variable speeds.
DTS: This company has built a moving wash light specifically designed for film and studio use. The Alchemy boasts a six-color RGBCAL source and perfect white colors that can range from a 2500°k/93.7 CRI to a 5600°/97.5 CRI output, and ± green shifts and beam shaping are also available.
Duratruss is a U.S. leader in truss and staging products for live stages, theaters, nightclubs, church installations. They offered Square/Triangular Truss, I-Beam Truss, Clamps, Box Truss, Circular Truss, Exhibit Displays, Truss Kits, Truss Totems, Retail Displays, Crank Stands and more.
Elation: The Proteus line of waterproof fixtures just gained the grandpappy of them all with the release of the Proteus Maximus, a hybrid fixture described as "a cannon of light." We're talking about a 50,000 lumen output. The Artiste Monet was also on display, a fixture designed for theatrical use. The Smarty Hybrid and Rayzor 760 are also available in Proteus models now.
Enttec showed two new products. The Octo is their first 8-universe DIN-RAIL LED pixel controller, combining high output and flexible power options in a DIN-mountable device, with a flexible voltage range of 4V-60V. The Triton outputs up to 300W, enough for large-scale touring projects. It supports up to 8 universes of DMX data.
ETC launched the Relevé Spot fixture, designed for live entertainment. ETC also released version 3.0 software for the EOS console, introducing a 3D programming environment into the console. The visualizer capabilities of EOS have been augmented, and the desk includes a phone app that allows users to test lights.
GLP unveiled the Highlander, a 1400-watt discharge wash light. It has a nine-inch Fresnel lens and interior barn doors. Also shown was the S350 wash, a partner to their LED spot fixture. The KNV line offers a linear model with five cells as well as a new batten (FR10 Bar) with ten 60-watt LEDs with individual zoom control. The IP65 Fusion brand was also introduced.
Gerriets had a curved track over their booth that allowed moving lights to physically move to new locations. Their array of various fabric fasteners were on hand as well as their impressive Hologauze, a sheer fabric that looks great when projected upon.
Global Truss Europe: Once again, their original artwork designed from truss pieces was a hit with passersby. This year, a large guitar made of truss was toned with different colors. Europe also saw the unveiling of the new DNA truss, sections of aluminum truss that spiral in shape.
Green Hippo v4.5 was displayed. Using Object to Output, users can seamlessly integrate moving set elements, map a single video across many displays and easily and dynamically adjust the perspective of content. Beat Bridge, another new feature, simplifies programming by allowing Hippotizer parameters to react to audio input.
High End Systems: There was tremendous talk on the floor about the new TurboRay with its turbine-looking front blades. The fixture has a retro design with four internal LED sources individually controlled. The blades in front turn to diffuse the beam. The Sola series premiered the SolaFrame 1000 off for the European crowd.
Kvant/Pangolin: The laser company had the "Resonance of Sound" exhibit that demonstrated the power of single laser beams following a moving system of mirrors. The newer models of 30W lasers are smaller and offer OPSL combined with RDB diodes to power the beam so it stays tight for longer distances. The Pangolin software can run off of most lighting consoles now.
L8: The previsualization company was at the top of their game. They offered a contest for the best presentation using their software. Amir Cohen designed a show using 1800 light sources, articulating stages made of video panels, a Kinetic system of moving LED balls, pyro and so much more.
Lee Filters: They offer their range of Zircon filters for LED correction. They are double the thickness of regular gels to get a long life span. Ranging from Full CTO to all sorts of diffusion, they offer what you need in any gel.
Le Maitre: The purveyor of flame, smoke and various effects was on hand to show us the new ProLoom, a plug-and-play, quick-to-ignite and exceptionally safe igniter system that is compatible with all twin-wired pyrotechnics. The Salamander Quad Pro now offers wireless operation.
Look Solutions: The German masters of smoke devices from tiny handheld units to bulky stadium models showed off the Orka, a 9000-watt fog generator. Due to its enormous power and the strong output, large arenas and even stadiums can be filled with fog. The integrated powerful fan intensifies the output.
LumenRadio released two new products as they announce a new era of Wireless DMX, the MoonLite and TiMoTwo. MoonLite features Bluetooth connectivity, color coded pairing and a built in battery. TiMoTwo platform is the next generation of reliable wireless DMX with a DMXmesh option, Bluetooth compatibility and improved Coexistence.
Luminex: The Belgium-based manufacturer of data distribution devices was showing the new LumiNode (available in June). These boxes have a USB port that works as an Ethernet dongle and include processing engines and DMX ports for output. Boxes range from a single port to the LumiNode 12, which has 12 outputs.
Madrix: The lighting control software now boasts three new effects — a water effect, a splitting shapes effect, and what they call the "Credit Effect." This allows the user to run any text across an LED surface. All layers can now be synced inside the program as well. Spout functions are working now to send and receive data.
Martin by Harman: Expanding on their line of strobes, the Atomic Dot is the size of a par 30, but a blinding 50-watt strobe. Users can combine and attach the hex-shaped Atomic Dots in various configurations. The MAC Allure Wash joined their Spot. Their new ellipsoidal, the ELP WW, has a 250W LED engine.
Obsidian Control Systems showcased the company's newest control product under the Onyx lighting control platform with the NX4, which offers 44 total playbacks in a compact console. Moving forward at a fast rate, they will release DYLOS, a pixel engine available later this year. Think of it as an elementary media server in a lighting desk.
Osram: Never resting on their laurels, the manufacturer of light bulbs has redefined how we will use LED light sources in the future. With the advent of the LuxiGen chip, they are combining RGB with Amber, Cyan and two Lime chips to make the perfect seven-die LED emitter.
Philips has been designing innovative new lamps as well as upgraded some older models, extending their working life spans. A new MSD Platinum 400 Flex lamp was designed for Elation fixtures. The new MSP Platinum 25R made its debut in the VL 10 Beam. They are also now making a range of 'Long Distance" bulbs.
Portman: They've added to their line by releasing the P1 mini, the first decorative, professional and full LED stage lighting fixture that keeps the real vintage, halogen look. The P1 mini comes with two layers of light sources – a special 1800K LED filament and an RGBW glow.
PR Lighting: Adding to their line of award winning waterproof fixtures, they have revealed the 580 Beam fixture which is larger and more powerful. Also added was the ultimate hybrid, the 580 BWS, (beam, wash, spot). Their most powerful framing module, the XR 1700 Framing light, also drew interest.
PRG: Once again the company took over the Festhalle arena with a brilliant show designed by Jerry Appelt. The show featured tons of GLP products as well as PRG's proprietary lighting and video gear. Backstage tours showed the unique AC and control systems PRG utilizes for their shows.
RGB Laser System: New this year was their HotBeams, a one-axis RGB laser bar consisting of 10 pieces of 300mW RGB modules in a common mechanical chassis that can scan 90° angle horizontally. Also on display was the G300, a moving head that spits out RGB laser beams.
Robe: They are celebrating 25 years of business with the Silverscan, a throwback fixture to scanners of old. The T1 series was displayed with profile, wash and follow spot models offered. An IP65 rated iParfect was revealed, while a SuperSpikie with a 250W RGBW source (4x the brightness of the original) was introduced.
Rosco: The small Image Spot proves to be ideal for tight spots and projecting gobos for architectural use. Their line of LED soft light panels were on hand, with one of them now offering color mixing.
SGM: A lot of talk on the floor concerned their prototype for the G-7 Beam, an intensely bright source that looks to take the place of the 3K Syncrolite. It zooms and has two color wheels. The face-melting strobe in the center is a great addition. The VPL linear array of LED's also gained great recognition for their Ethernet-based video strip that has an internal PSU.
Spotrack: The automated Spotlight system can now utilize a gaming type Intel controller with a joy stick and XYZ functions for dimmers, iris, zoom etc. They boast an area control which automatically douses a light when the artist leaves their zone. They do not need cameras on a light.
StageCo: The company behind the design and fabrication of the largest outdoor touring structures were on hand to demonstrate that, "If you can imagine it, we can build it." With a display of past engineering feats, along with their giant truss, they show their skills.
Swisson: The masters of DMX splitters through all means possible showed me their pre-managed gigabit switch. Their proclaimed biggest seller, this device is all simple and just plug and play, so everyone is loving them.
Tait: Members from the team were on hand to show visitors their Nano Winch system, Rollio drops and videos of all their amazing shows they've built sets for.
TMB: The purveyors of all sorts of gadgets were proud to show off their latest edition to their Floppy Flex line of LED tape that can be bent. It's a three-sided model that is as bright on the sides as it is on the top.
Ultratec Special Effects: The hugely popular Radiance line of hazers has gotten an upgrade. It now accepts DMX that can be addressed through an LCD push button system. The S3 swivel bracket is great for direction directing your effects, whether it be bubbles, snow, smoke, or fans.
Vari-Lite: The huge attraction was the new VL 6500 wash fixture, a complement to their 6000 Beam. The new VL10 Beam fixture boasts a 550-watt Platinum 25 R lamp. Also on display were the VL2600 LED sourced medium range of movers. Strand's NEO console and line of conventional fixtures were displayed as well.
Leave a Comment: