Showeditor now free Software with any Laserworld ShowNET interface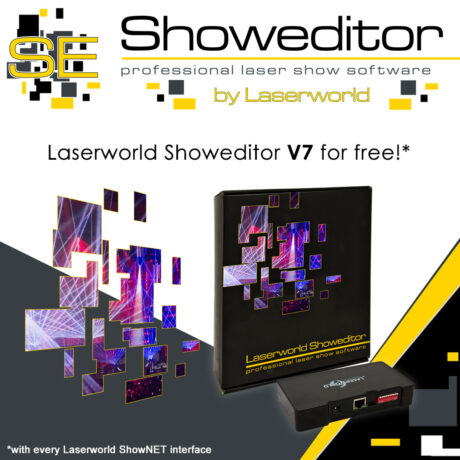 GERMANY – Every buyer of a ShowNET Ethernet Interface for laser control now receives Laserworld Showeditor for free! The professional laser show control software Laserworld Showeditor is suitable for live laser control as well as for timeline programming complete laser shows. It already comes with 250 free laser shows. It is possible to create own logos, texts or graphics and use the tracing tool to convert pixel pictures to laser compatible files.
More details from Laser Media (www.laserworld.com):
The Laserworld ShowNET interface is a LAN interface, so no long ILDA cables are required any more. It has a built-in SD-card that ILDA frames and animations can be loaded to. The contents on the SD card as well as the preset patterns can be remotely triggered via DMX (16bit X+Y axis resolution) or can run stand alone in automatic operation (e.g. for architecture illumination, logo projections, etc.). ILDA Streaming is supported, too.
Laserworld Showeditor can be used for creating logos, texts or animations to be used with the ShowNET interface (ILDA export), but it's also possible to directly live output with Laserworld Showeditor through the ShowNET LAN interface.
More details on the ShowNET interface here: https://www.laserworld.com/shop/laserworld-shownet-network-interface
The Laserworld Showeditor laser software can be downloaded here: https://www.showeditor.com/
Leave a Comment: