UM Athletics Gears Up for New ACC Television Network with Panasonic AK-HC5000 HD HDR High-Speed Camera Systems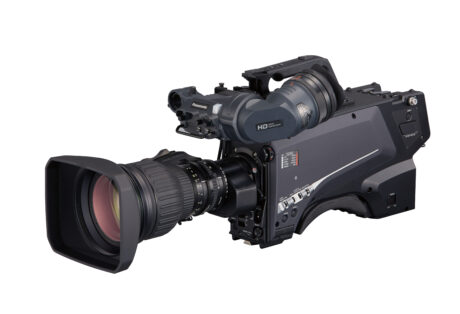 NEWARK, NJ – The University of Miami (Coral Gables, FL) has increased its complement of Panasonic production cameras with a purchase of five Panasonic AK-HC5000 HD HDR high-speed broadcast camera systems in full studio configuration. Previously equipped with five AK-HC3800 HD broadcast cameras and three AJ-PX5000 P2 HD shoulder-mount camcorders, U. of Miami's Athletics has utilized the HC5000s to produce linear and digital broadcasts of Division One sports since early this year.
More details from Panasonic (www.na.panasonic.com/us):
According to Director Production Services-Athletics Drew Thomas, the investment in multiple HC5000s to cover live sporting events is a key component of U. of Miami's full upgrade of its control room and overall ramp-up for the launch of the Atlantic Coast Conference (ACC) linear television network this August.  (When the new Network—a partnership with ESPN– premieres, it will feature 450 exclusive live events annually, with 900 more expected to land on the online-only ACC Network Extra.)
The fast, high-resolution HC5000, capable of high-speed output up to 1080/239.76p, incorporates new 2/3" 2.2M 3-CMOS sensors with high sensitivity (F11/2000lx), low noise (S/N 60dB+), and resolution measured at 1100 TV lines. The HC5000's system components include the AK-UCU500 CCU, which provides power up to 6600 feet over standard SMPTE fiber along with IP streaming video feature; the AK-HRP1000 Remote Operation Panel, featuring PoE+ power and PTZ camera control capabilities; the AK-HBU500 studio build-up kit for integration with long field lenses; and AK-HVF100 9-inch, Full-HD LCD viewfinder. All of Clemson's HC5000s are fully configured with these components.
Thomas said he had invested in the HC5000 based on its 240fps capability, competitive cost and an extensive, positive history with Panasonic service and support.
Leading up to the ACC Network debut, Thomas has deployed the HC5000s primarily for basketball and baseball coverage. Several men's/women's basketball games aired on ESPN2 and ESPNU, and 30+ baseballs game aired on ACC Network Extra. In the coming school year, Thomas anticipates that he will use the HC5000s to cover up to 120 sporting events, with a minimum of 15 of these seen on linear broadcasts on the ACC Network.
The Panasonic cameras are used for coverage of all major varsity sports—volleyball, soccer, track and field, men's and women's tennis, in addition to basketball and baseball. The Hurricanes' football games are played at Hard Rock Stadium, home to the NFL's Miami Dolphins.)
Thomas noted that all the sports venues on campus are connected by fiber to the master control room located in the Hecht Athletic Center; the production format is 720p.
For more information about U. of Miami Athletics, visit www.hurricanesports.com. The AK-HC5000 cameras were purchased from Midtown Video, Inc. (Miami, FL).
Leave a Comment: