Vanguard Displays Highly Touted, Robust, Tungsten LED Rental Cabinet at LDI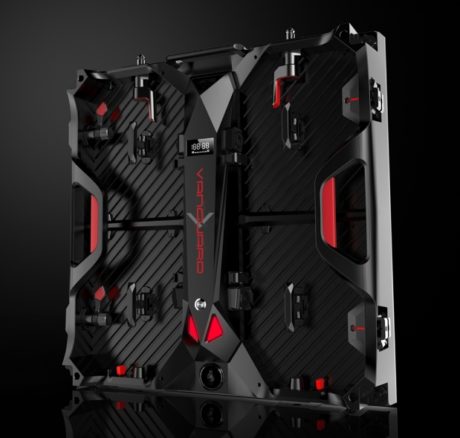 LAS VEGAS – Vanguard was on hand to show the world the LED rental display that can stand up to the rigors of day-to-day use as well as abuse. Vanguard's signature attention to detail, quality and design has resulted in its new stout Tungsten cabinet, using top of the line components including SMD 1515 gold wired LEDs, Nova receiving cards, and Vanguard Chip On Board, lamp protection, and aluminum protected corners, as standard features. The Tungsten rental cabinet will stand up to the rigors of the rental business.
More details from Vanguard (www.vanguardleddisplays.com):
A simple touch of the hand to the surface of the LED cabinet shows you why Vanguard is a step ahead of everyone when it comes to protecting a vendor's investment in LED Displays. This patented Vanguard Chip On Board protection seals the LEDs within each cabinet, protecting them when brushed by an errant road case, truck wall or clumsy handling.
Vanguard's Michael Wiener explains how this cabinet line came about: "We designed it from scratch to withstand the rigors of the rental market. I have never met a stagehand who could not break something. It has 4 corner protectors. That is where most of the physical damage occurs on an LED cabinet. The frame does not allow the module itself to touch the ground. No internal cabling. This product offers front or rear access."
If protecting your investment for many years to come is an important decision in your purchasing of new LED cabinets, please reach out to Vanguard for a more personal call with them to show you why they consider their gear the best in the business.
The Tungsten series comes in pitches of 2.5, 3.9 and 4.8 mm. More details below.
SPECIFICATIONS:
Frame Material: Aluminum
Panel size: 500X500x85mm
Weight: 19.1lb/cabinet
Pixel pitch: 2.5, 3.9, 4.8mm
LED Configuration: SMD1515Gold
Brightness: 800nit
Grey Scale: 14 bit
Contrast ratio: 3000:1
Viewing Angle: 140 °
LED Type: SMD 1R1G1B
Date refresh rate: >2880Hz
Power draw (Max/Avg.): 700/235W/sqM
Leave a Comment: