ADB Stage Lighting's Klemantis LED Cyclorama Light with Wireless Control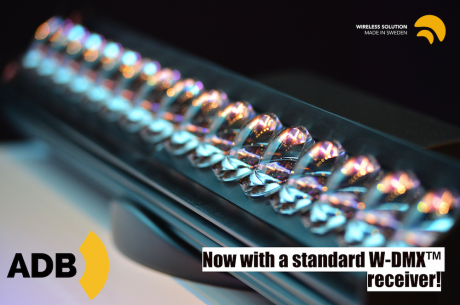 ADB Stage Lighting's new Klemantis LED cyclorama light is based on a six-color module, with cutting-edge HCR, promising users the ability to choose among a wide selection of colors, from bold hues to pastel shades. The unit also comes standard with a W-DMX module, that allows to wirelessly receive DMX data from a W-DMX transmitter. It includes an external 2dBi antenna in order to be able to achieve long-distances on 2.4 GHz.
More details from Wireless DMX (www.wirelessdmx.com ):
"We are very excited to be able to work with ADB", says Niclas Arvidsson, CEO for Wireless Solution. "The company is in great shape and developing some of the most pioneering products for theatre, it's great they have chosen our company to supply Wireless DMX. Giving the users the possibility to wirelessly control their KELMANTIS fixtures opens up a lot of possibilities for designers to be very flexible with their lighting design, without having to consider data cables".
The KLEMANTIS series had its television debut at the Eurovision Song Contest in Lisbon, which aired between the 8th and the 12th of May.
Leave a Comment: