2011 People's Choice Awards Featured Pyrotek Special Effects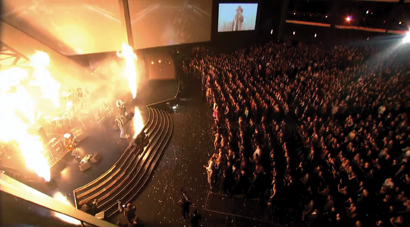 LOS ANGELES – The 37th annual People's Choice Awards, held at the Nokia Theater, featured a variety of pyro and other effects provided by Pyrotek Special Effects. Queen Latifah performed a cover of Taio Cruz's song, "Dynamite," which ended with an all-fire cue that included silver mines, comets, and white flash with bang to kick off the show.
Kid Rock, preparing for his Born Free tour, performed "God Bless Saturday," which included various flames and pyrotechnics that were incorporated into the stage set.
Pyrotek collaborated with Elia Popov implementing a four-way flame rack which was cued by Pyrotek's operator Kevin Hughes who worked alongside pyro technician Dimitri Timohovich.
The performance, which included large columns of flame, was capped off with a 20-second silver gerb waterfall positioned upstage.
Selena Gomez & The Scene also performed "A Year Without Rain," which included low-lying fog and cryo jets cued to the closing beats of the chorus.
For more information, please visit www.pyrotekfx.com.
Leave a Comment: