3D Projectors Create Buzz for New HIVEs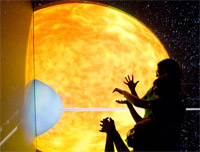 MILWAUKEE, WI — Christie Digital Systems has designed and installed an immersive Christie TotalVIEW CAVE at Discovery World at Pier Wisconsin. Dubbed an Human Interactive Virtual Education (HIVE), the exhibit gives visitors a virtual, 3D interactive experience. Discovery World's HIVE relies on Christie's Mirage series projectors for the virtual reality of its imagery. EON Reality, a partner with Christie, provides the interactive visual content management software that enables the exhibit's sensory and real time visual interaction.
The HIVE uses projection on three 8-foot-by-10-foot walls and the floor. A set of active 3D glasses with motion-tracking technology completes the illusion, with the projected images shifting perspective in reaction to the person's movements. Visitors find themselves hovering above the water, in a small town in Portugal, flying through the solar system or immersed in nearly 30 other virtual experiences.
"Visitors have a sense of presence and interaction with the images around them as they move about in the virtual worlds. They're able to 'walk' and 'fly' through the environment, manipulating its elements in hyper real-time," said Discovery World's executive director Paul Krajniak. "The 3D experience is so convincing that we even caution visitors who might be prone to motion sickness or vertigo."
The HIVE is one of just two four-sided immersive environments in the world that are accessible to the general public. It joined Discovery World's other interactive exhibits that use technology to provide learning experiences, according to Krajniak.
"In choosing Christie, we made a lot of comparisons and quickly recognized that their TotalVIEW CAVE solution was the best. Christie brings unmatched integration expertise in a wide range of virtual environments, allowing them to provide a highly customized system that helps us achieve our goal of showing visitors a true glimpse of the future," Krajniak added.
He noted that the HIVE is unique in its ability to bring data together in a different way, to help people better understand and utilize knowledge. For example, using survey and satellite information, the HIVE can generate virtual landscapes of cities to help determine the best uses for land, or create a 3D brain from medical scans to allow people to see the intricacies of the human anatomy.
"For 25 years, Discovery World has been connecting people with technology, using the latest innovations to help build a bridge between our daily lives and the natural world," said Zoran Veselic, vice president of Visual Environments for Christie. "Like Discovery World, Christie continues to build on its tradition of delivering leading-edge technologies to meet the sophisticated needs of our customers. Discovery World's interactive 3D exhibit is the latest example of a customizable, powerful and widely-used advanced visualization solution available from Christie that will shape the way people learn and think."
The HIVE was built through a partnership with the Milwaukee Area Technical College, which holds classes on-site, and whose students are helping to create and update content. Discovery World is also exploring opportunities to work with local industries, such as architectural firms, that are seeking access to the latest virtual reality technology. The HIVE offers potential applications in manufacturing, architecture and design, medical modeling, and data mining.
For more information, visit www.christiedigital.com and www.discoveryworld.org.
Leave a Comment: