Acclaim Lighting Transforms Trees in Lindsay, Calif.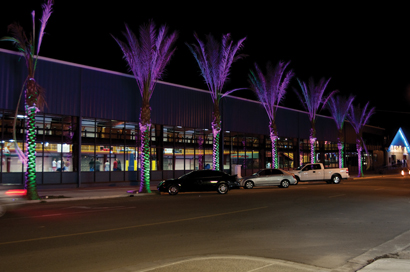 LINDSAY, CA – Small-town boosters in New England can tout trees that change color by the season, but in this California town (pop.10,571), the color changes occur nightly, with a little help from Acclaim Lighting. Living up to their motto, "Small Town, Big Dreams," the city recently undertook an extensive downtown makeover that included new roads, sidewalks, street lights and trees.
Mayor Ed Murray, city manager Scot Townsend, head of city services Mike Camarena and associate engineer Neyba Amezcua worked together on ideas to make the town stand out.
The result? Visitors can now find hundreds of ornamental Chinese pistache and palm trees that line a five to six block area in the city's downtown district, set aglow in colors including pink, purple, blue and orange.
The trees are lit by with in-ground color-changing RGB LED fixtures from Acclaim Lighting, designed and supplied by Illuminate Production Services (IPS).
Rick Franke of IPS said that his company won the bid for the Lindsay project after demo-ing the Acclaim LED fixtures and submitting a proposal.
"The city manager asked me to help him think of something innovative they could do to their downtown area that would enhance the town's atmosphere and make it more inviting and friendly," said Franke. "He wanted something that would have the potential to be very festive and thematic during each season. We created this by lighting the trees with unique color sequences."
The fixture used for the project is Acclaim's X-Drum HIP, an IP68-rated outdoor RGB LED fixture in rugged diecast stainless steel housing. Mountable inground, it is powered by 36 bright Luxeon RBG LEDs.
Franke said he chose the X-Drum HIP because it is "a powerful LED fixture. To my knowledge there is not another LED fixture as bright that is rated for inground and even submersible applications. It has great intensity and color saturation, along with a nice beam angle for many things, specifically trees on this project."
Some 225 downtown trees have been "lit up," with 2-3 fixtures per tree. The fixtures are controlled via a wireless DMX system from Acclaim's sister company Elation Professional, the EWDMX system. Three universes of DMX are transmitted wirelessly from a 50-foot mast at City Hall to more than 20 pedestals filled with power supplies throughout the downtown area. Inside each pedestal is an EWDMX receiver with an individual IP-rated antenna designed for signal boost as well as all-weather application.
Designing the outdoor wireless DMX lighting installation presented some challenges, said Franke. But now that it is up and running, "the EWDMX system has been flawless," he reported.
"The first challenge was where to locate the power supplies. We determined that each side of each city street would need a pedestal to house the power supplies. They would also need to have thermostat-controlled fans as well as filters to keep out dust.
"The second challenge was upsizing the multi-conductor cable to account for voltage drop to get the long runs required on each street. We sold miles and miles of Tray Cable for the installation, which was installed in conduit from the pedestal to each tree.
"The wireless DMX system itself is working very well," Franke added. "We are broadcasting over a Southern California Edison Substation to the furthest street from City Hall. We were concerned we would have significant field interference from the substation – but surprisingly there has been none at all."
Programming of the trees is done at City Hall, using Compu 2048FC PC-based DMX lighting control software from Elation. The entire installation is run off two Compu 2048FC USB dongles on a single computer, which are set to activate with the computer's internal clock.
"Right now we have three full DMX universes," said Franke. "The Compu software has provided good, solid control for the great shows we are creating. We have festive shows for different seasons and holidays, and we also do a little extra for the big Friday Night Street Fair that the city has during the warmer months."
Acclaim LEDs are also being used at one of downtown Lindsay's newest indoor attractions – a Slot Car Track in the city's huge 170,000 sq. ft. sports and recreation facility. The lighting on the top side of the track is done with Acclaim's X-Band 300 Pro, an IP65-rated indoor/outdoor LED wash fixture that contains 36 RGB LEDs. The X-Bands are being programmed to simulate a dawn-to-dusk environment that runs via Elation's AR-32 DMX recorder/playback system. The underside of the track is lit with 72 Acclaim X-Chips.
"This too is a very innovative project," said Franke. More information about the Slot Car Track can be found at http://www.mcdermontfieldhouse.com/attractions/slotcartrack/
Franke reported that the city has just placed an order with IPS for more Acclaim lights to expand the tree-lighting project. A Warm-White version of the X-Drum will be used to highlight the Lindsay Gateway of Palm Trees, which line the streets entering the downtown district.
"The feedback has been amazing," said Franke. "I met a guy on the street and he said, 'I've lived in this town my whole life and never thought I would see anything like this. It's beautiful!'"
To view the trees yourself, click on link below.
http://www.youtube.com/user/ACCLAIMLIGHTING#p/a/u/0/lGS7TvFYKFo
For more information, please visit www.acclaimlighting.com.
Leave a Comment: