American Idol Requires 17 Cameras, Quick Change of Venue, Uses PRG Bad Boys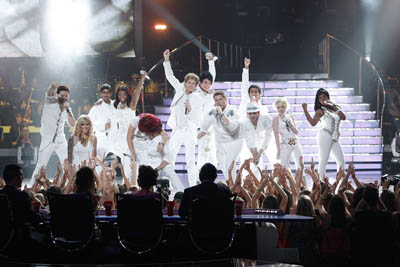 LOS ANGELES — Production Resource Group (PRG) supported Kieran Healy's lighting design for the finale of American Idol's eighth season, a show that included a long list of guests along with the naming of winner Kris Allen over runner-up Adam Lambert. Healy's design needed to showcase Allen, Lambert, the other finalists and guests including Cyndi Lauper, Santana, Black Eyed Peas, Jason Mraz, Queen Latifah, Rod Stewart, Keith Urban, Kiss and Queen, with a total of 17 cameras capturing all the evening's moments.
That added up to a considerable lighting challenge, of course, compounded by the need to move the American Idol finale from a soundstage to the 7,100-seat Nokia Theatre at LA Live for the live FOX television event amid time constraints.
"One of the beauties of working with PRG on this project was that they were able to duplicate the equipment that I had at the soundstage, plus augment it for the finale design," said Healy.
The show loaded in for three days before Healy arrived on-site, as he was at the soundstage finishing the last two regular season shows. The production had only five days between the last shows at the soundstage and the first show at the Nokia—not a lot of time to move the lighting and sets and setup at the new venue. "Having PRG get the rig in and ready for programming, without having to move gear from the soundstage, was fantastic," Healy said.
Healy—who likes to keep his keylight at a fairly low level, using mostly followspots—created many of his big looks from his backlights, which this year included PRG Bad Boy luminaires.
"I am a great fan of heavy backlight," said Healy. "We used nine Bad Boys. They are a different kind of light than the Syncrolite's soft-edge wash unit, which had previously been the brightest light in the air. I wanted a hard-edge unit that would stand up to those and the Bad Boys were a perfect choice.
"The optics on the Bad Boys are absolutely incredible," Healy added. "You can go from a very, very thin shaft of light to an enormous beam. One light can wash the entire stage. So with their superior optics, the idea was to use the Bad Boys to stand out against the Syncrolite washes and then to use all their horsepower with gobos.
"It was pretty amazing to be able to take a gobo like "Night Sky," which is just sort of pin pricks of light, and cover the entire stage and still have it read on camera," Healy said.
"The field is absolutely smooth throughout the entire lensing, from a tiny shaft to a huge, zoomed-out beam; which is incredible for television," Healy added. "Most other lights will produce a hotspot, which can be difficult to deal with, especially if it hits someone's face or body. So the Bad Boy's even field is magnificent. Plus I was able to get some very rich colors from them.
Of PRG, Healy added, "They give me fantastic service and at the end of the day, while the equipment has to work well, it is also a people business. PRG, as always, was superb. And I couldn't have done it without my lighting directors—George Harvey and Joshua Hutchings," who also programmed the show, "Matt McAdam who controlled the media servers, and Lynn Costa was our board operator. PRG's crack crew was led by Steve Olenicjak and our Local 33 crew was headed by Darran Webb."
American Idol is created and executive-produced by Simon Fuller, founder of 19 Entertainment. The series is executive-produced by Cecile Frot-Coutaz, CEO, FremantleMedia North America, Inc. and Ken Warwick, executive producer, FremantleMedia North America, Inc.
For more information on PRG, please visit www.prg.com.
Leave a Comment: