Anvil Cases Launch C.E.R.V.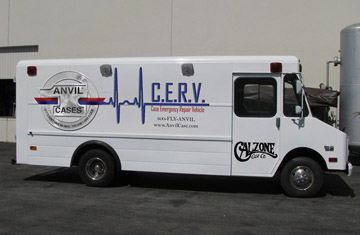 LOS ANGELES — Anvil Cases has a new service for the Southern California region for case repairs and modifications. The company's Case Emergency Repair Vehicle (C.E.R.V.) is equipped to repair, modify, re-foam and replace hardware and casters at the customer's site. The idea is to eliminate the need to ship cases to a remote repair facility, saving the customer freight costs as well as time.
Certain repairs may require a trip to the Anvil facility in City of Industry if the extent of the repair is beyond the capacity of the factory service personnel. Appointments may be made by either contacting the local Calzone Anvil district manager or by calling the factory at 626-
405-2816.
All repair work is guaranteed to be free from defects in materials and workmanship for one year from date of service. The company also offers case design assistance and recommendations at no additional charge.
For more information, please visit www.anvilcase.com.
Leave a Comment: