Architects Use Pulsar LEDs To Turn Building into Landmark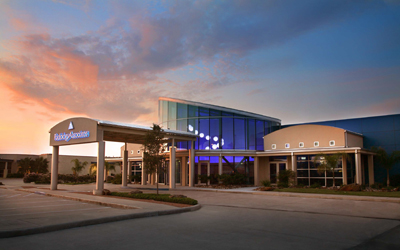 CORPUS CHRISTI, TX — Radiologists need to compete for their patients' business, and the challenge for Dykema Architects was to help the building housing Radiology Associates stand apart.
"The doctors that hired us wanted a building that also worked as signage," said Dykema Architect's Biby Dykema. "Since radiology is a competitive industry, and being that they are a progressive group who were willing to take a little risk to be unusual, we decided to look at LEDs again to create the feel they were looking for. I saw an article on LED lighting in Europe in one of my architectural journals, and consequently saw an installation that Pulsar's Jerry Colmenero did at an art museum party and I visited with him about my ideas."
Dykema worked closely with Colmenero and the glass contractor to come up with enough lighting with the proper glass so the vestibule would literally glow. Since the radiologist's logo was a bright blue, Dykema decided to use the LED strips behind a back wall comprised of glass cylinders and within a coved recess where the LEDs would reflect off the glass wall. Dykema also added large "orbs" —12 of the new Pulsar ChromaSphereX3-650s—hung in a spiral configuration in the middle of the lobby using the X3s that were set on rotating colors.
Under Colmenero's direction, install contractor TL Electric of Corpus Christi, TX supplied four ChromaZone12X3 power supplies for power and data, with a Doug Fleenor Preset-10 to playback the lighting programs. A beta version of Elektralite's lighting control software, Elektrasoft, was used to program the system.
"The challenges for us were that this is relatively new technology down here," Dykema explains, "so many of the construction team members had to have faith in me that it would work. Pulsar's assistance in helping us integrate the LED technology in an effective and visually dynamic way was invaluable," Dykema added.
For more information, please visit www.pulsarlight.com.
Leave a Comment: