Artistic Licence Rack-Split RDM with RJ45 Connectors Available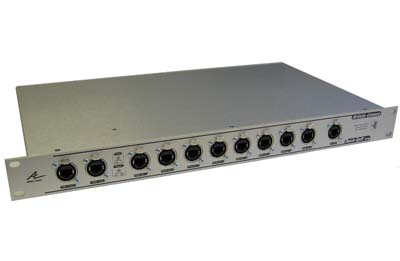 HARROW, U.K. — Artistic Licence is following last year's RDM Splitter Upgrade with the introduction of the Rack-Split RDM RJ45. It's a 1-to-9-universe DMX512 splitter with isolated input, supporting both RDM and High End Systems Talkback protocol, housed in a 1RU 19-inch rack mount casing. Rack-Split RDM RJ45 uses RJ45 Ethercon connectors rather than the standard 5-pin XLR connectors. The RJ45 connectors let users benefit from the DMX512-A specification that defines using shielded CAT5 cable for DMX distribution. These include a greater range of cable options, no soldering required, and a general understanding of CAT5 cable within the electrical sector.
As the use of DMX in the architectural market increased, the DMX512-A specification introduced the use of CAT5 cable to combat the increasing installation costs associated with using standard DMX cable. By using RJ45 Ethercon connectors, Rack-Split combines the locking mechanism offered by the standard XLR connector with the ability to use the RJ45 connector.
All Rack-Split RDM RJ45 data connections are mounted on the front panel of the case. The rear panel provides two M4 safety chain points to allow the product to be used without rack mounting. A "Safe" output provides a DMX512 (1990) output with only zero start code data which allows any legacy equipment compatibility problems to be overcome.
For more information, please visit www.ArtisticLicence.com.
Leave a Comment: