Auerbach Pollock Friedlander Plays Key Role in $82 Million Paramount Center at Emerson College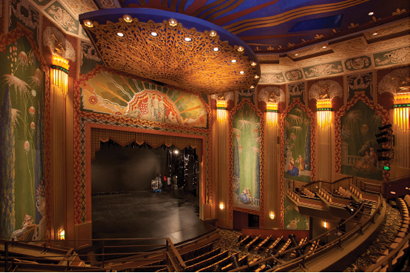 BOSTON – The Paramount Theatre started out in 1932 as a 1,500-seat movie palace, but fell into disuse in the 1970s. This year, it resurfaced as part of the bigger Paramount Center complex, a multi-year undertaking with a budget of $82 million.
Along with the refurbished proscenium theatre, with a seating capacity reduced to 596 to allow for a new stage design and orchestra pit, the Paramount Center encompasses another building, the Arcade, which is the former site of the Bijou Theatre and B.F. Keith's Theatre, the first vaudeville theatre to use electric lighting.
The renovations included new lobbies and backstage areas, and the Paramount Center complex also encompasses the 125-seat Black Box Theatre, the 180-seat Bright Family Screening Room, a film sound stage, music rehearsal space and media studios, practice rooms, classrooms, faculty offices, a scene shop and also a student café and dormitories for 262 students.
Elkus/Manfredi Architects led the project, supported by Auerbach Pollock Friedlander, Performing Arts/Media Facilities Planning and Design, which provided theatre consulting and sound, video and production communications design.
Auerbach Pollock Friedlander had previously collaborated with Elkus/Manfredi Architects on the Cutler Majestic Theatre and the multi-venue Tufte Performance and Production Center.
Despite the retention of the nostalgic 1930s-era Art Deco design elements, the Paramount Theatre has been reinvented for live performances. There's a new stage house sized that replaces the original platform used for movies. Along with the increased depth of the stage and addition of the orchestra pit, the seating needed to be carefully redesigned to ensure sightlines and to allow for access to the existing main level and mezzanine lobbies.
The new stage also connects with the new scene dock, loading dock and scene shop. The flytower provides a full working grid and is equipped with a combination of 26 manual counterweight rigging linesets and 15 fully motorized variable speed battens.
The 2,300-square-foot, 125-seat Black Box Theatre is located in the footprint of the Arcade Building, which was adjacent to the original Paramount Theatre. It is connected to the Paramount's second-floor lobby.
The space incorporates the historic façade of the Arcade Building, including its arched windows, all of which are equipped with automated black out blinds. A full lighting system provides distributed data, dimmed and switched circuits on the pipe grid and surrounding technical gallery.
The space is adjacent to the scene shop's paint deck, and the two spaces are connected by a large set of doors, allowing the paint deck space to double as scenery storage or a rear projection space.
The 180-seat Bright Family Screening Room is used for showing student and professional work. The space has a full 35mm, 16mm film projection and digital cinema projection systems providing six projection formats, and it is also equipped with a full Dolby digital 5.1 surround sound system. When not being used for cinema, the space is also designed to support lectures and related video presentations.
The Film Sound Stage is a 1,500-square-foot, double-height space that gives students a taste of what it's like to be working within a sound stage for a major motion picture production facility. While not intended to provide the area needed to set up large productions or multiple sets, the space allows students to work hands-on with sets, props, cameras and lighting.
The Paramount Center's rehearsal spaces include nine studios totaling over 8,000 square feet. The studios range in size from 500 square feet to 1,500 square feet and while they can be considered multi-purpose, each is specifically designed with dance, music or theatre in mind.
Studio 7, the largest theatre studio, is equipped with a pipe grid and lighting system power to allow for use as a small performance space. The other large studios have power and rigging supports to allow for modest performance support.
The 4,500 square-foot scene shop provides woodworking, metalworking and painting facilities to support all of Emerson's performance spaces. A full loading dock with two bays capable of accommodating full tractor trailers links to a scene dock with an 18-foot clear height.
The scene dock provides access to the shop and main stage through 18-foot-high loading doors to enable fully assembled pieces to be moved between spaces. It also links to a 6,000-lb. freight elevator, which provides access to the flexible theatre, studio spaces and sound stage on the upper floors.
The total size of the Paramount Center project includes 180,000 square feet of space – 146,000 square feet of new build, and 34,000 square feet of adaptive reuse and renovation. The total project budget was $82 million.
Auerbach Pollack Friedlander's staff leading the project included Steven Friedlander, ASTC, principal in charge; Donald Guyton, senior associate, project manager; Daniel Mei, senior associate, sound, video and communications system designer.
For more information, please visit www.auerbachconsultants.com.
Photos by Peter Vanderwarker
Leave a Comment: