Bigger LED-lit Ball for New Year's Eve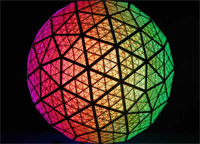 NEW YORK — The New Year's Eve Ball that starts its slow descent from atop Times Square on Dec. 31 will itself be new this year: a 12-foot geodesic dome, double the size of previous balls. The 11,875-pound sphere will be covered with 2,668 Waterford crystals and lit by 32,256 Philips Luxeon Rebel LEDS. Capable of creating a wide variety of patterns, the ball, a 100-year-old tradition, will remain on display after the 2009 celebration for the first time as a year-round attraction. Countdown Entertainment and the Times Square Alliance organized the project.
Philips Lighting, which provided the LEDs for the ball, tripled the number of LEDs used last year and made it between 10 and 20 percent more efficient. Susan Bloom, director of corporate communications for Philips Lighting Company, said Philips was "delighted" to play a role.
Focus Lighting used over 3,500 lighting cues for the ball's visual design, which includes color and movement radiating over the ball's surface. "We tried to create a beacon of light in the sky over Times Square," said Paul Gregory, Focus Lighting's principal lighting designer.
Other companies working on the project included E:Cue Lighting Control, which provided lighting control system, Hudson Scenic Studio, which provided structural engineering design and development, Landmark Signs, which assembled and will operate the ball, Lapp Group, which provided power and control cabling and Lighting Science Group, which provided the 672 LED modules and technology integration.
Revelers began celebrating New Year's Eve in Times Square as early as 1904, but it was in 1907 that the New Year's Eve Ball made its maiden descent from the flagpole atop One Times Square.
The first New Year's Eve Ball, made of iron and wood and lit with 100 25-watt light bulbs, was 5 feet in diameter and weighed 700 pounds. The ball has been lowered every year since 1907, with the exceptions of 1942 and 1943, when the ceremony was suspended due to the wartime "dimout" of lights in New York City. In 1920, a 400-pound ball made entirely of wrought iron replaced the original. In 1955, the iron ball was replaced with an aluminum ball weighing 200 pounds. For Times Square 2000, the millennium celebration, the New Year's Eve Ball was completely redesigned by Waterford Crystal.
For more information, please visit www.timessquarenyc.org.
Leave a Comment: