Blackout Design Adds Visual Edge to Quaint Quebec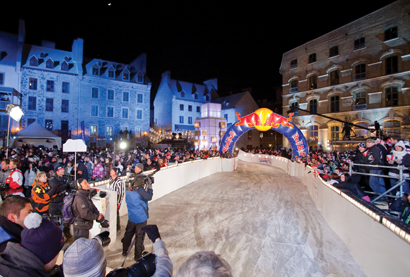 QUEBEC CITY – The Red Bull Crashed Ice competition shook up the quaint environs of Quebec, drawing some 120,000 spectators to watch hockey-helmeted daredevils try to stay on their blades as they careened around 550 meters of icy track set amid the city's French Canadian architecture. Two key goals for the 2010 Red Bull Crashed Ice competition were energy efficiency and an effort to highlight many of Quebec City's architectural landmarks.
The team at Blackout Design returned after lighting the event last year. This year's rig, also supplied by Solotech, included:
Control:
1 MA Lighting full size console
2 MA Lighting light console
8 MA Lighting NSPs
2 ETC Express 48/96s
4 ELC dmXlan swith8LXs
13 ETC Touring rack 48×2.4KW
Lighting:
1 Musco Truck
1 Mini Musco truck
6 Syncrolite SX3K-2s
65 Vari*Lite VL3500 Wash fixtures
45 Vari*Lite VL3000 Spot fixtures
10 Vari*Lite VL3000 Wash fixtures
10 Vari*Lite VL2201s
8 Vari*Lite VL2414s
10 Barco/High End Systems Studio Color 575s
50 SGM Genio mobile units
10 Martin Atomic 3000 strobes
68 Ayrton Moduled 150 AWW
60 Philips ColorKinetics ColorBlast 12 fixtures
50 Chromlech Jarag Par30s
4 Jem ZR33 fog machines
30 bars of six Par64 1000W fixtures
48 bars of four ACL fixtures
300 Par64 1000W fixtures
54 Altman Zipstrip ZS3s
200 ETC Par S4 575W fixtures
40 ETC Leko S4 10* 750W fixtures
40 ETC Leko S4 26* 750W fixtures
10 Strand Iris 1 1000W fixtures
7 James Thomas Par36 8 lite spot bank
6 James Thomas Par36 6 lite spot bank
5 James Thomas Par36 2 lite spot bank
850 Stonco EQ500L Quartz Floodlight
Blackout Design and its founder, Hubert Gagnon, are no stranger to outdoor lighting projects. Previous lighting and video projects include Quebec's national holiday in 2008, the 2009 Quebec Summer Festival (lighting on St-Jean St.) and lighting and visual design for Le Chemin qui marche.
Blackout has also lit and provided visual design for extreme sports competitions including the 2010 Snowboard Jamboree. Upcoming projects include the Rock Show at the Calgary Stampede, and at Toronto's Canadian National Competition. The multidisciplinary show brings together circus artists, figure skaters, musicians and other active performers.
For more information, please visit www.blackoutdesign.ca
Leave a Comment: