"Bye Bye Birdie" Rig Controlled with ETC Consoles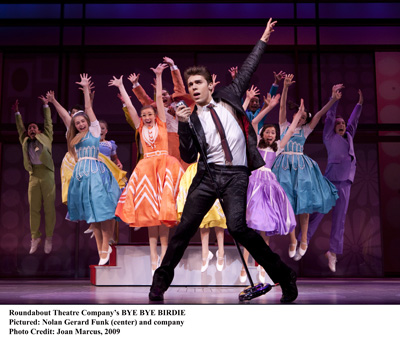 NEW YORK — The newly-rebuilt 1,016-seat Henry Miller's Theater is staging the musical Bye Bye Birdie, lit by Ken Billington and programmed on the theater's new ETC Eos and ETC Ion lighting control consoles. "Moving into a new theater for the first time is always a challenge, but the crew here, with Josh Weitzman as production electrician, has done a phenomenal job getting ready for the first show," said Billington's associate lighting designer, Paul Toben. "It is a traditional Broadway house in every way imaginable, except that it is four floors underground."
The production uses about 60 moving lights in addition to an array of spotlights and washes and a full complement of ETC fixtures and dimmers. The moving lights are programmed on the Eos console, and the conventional lighting on Ion, with the Eos triggering cue lists from both.
"The set presented a bit of a challenge because all of the lights need to shoot through 'windows' in the walls, and most of the scenery is built from various colors of Plexiglas," said Toben, "so we were constantly watching for reflections.
"With a new product like Eos on a large show like ours, there are bound to be some issues, but ETC has been both supportive and responsive," Toben added. "Eos product manager Anne Valentino was here for a full day, ETC field service engineer Josh Selander came out from Las Vegas to help us get our initial setup working, and Victor Seastone (ETC Senior Field Service Engineer, NYC) did some remarkable triage when we ran into some questions using MIDI control and multiple cue lists across multiple desks."
Timothy Rogers, who programmed the moving lights, recently started using the Eos and praised its user-friendliness and consistency. "We have accomplished on it everything we wanted to," he said. "ETC put a lot of thought into its design — having everything work the same and be consistent throughout — and that has helped in learning and using it on a daily basis.
"The tech support has been great," Rogers added. "As an independent, I have to work with whatever equipment is in front of me, and the Eos is a very easy console to learn and use."
Rogers, who has also done several shows with Billington in past years, always jumps at the chance to work with him.
"Ken is a very prepared LD. The process is very relaxed, very on target. He doesn't make the directors wait. He's very versed in ETC as a company and very hands-on when it comes to how the console works."
Henry Miller's Theater operates under the umbrella of Roundabout Theater Company. Virtually all Broadway and off-Broadway theaters use some form of ETC lighting equipment, and notable current shows like South Pacific, Rock of Ages, and Next to Normal employ ETC Eos-family consoles for control.
For more information, please visit www.etcconnect.com.
Photo credit: Joan Marcus, 2009
Leave a Comment: