Carnival Ship's Show Lounge to Light Up with LaserNet ScannerPros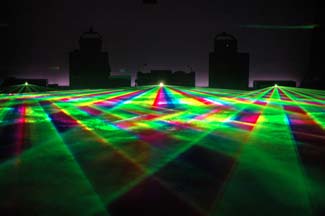 MIAMI — Carnival Cruise Line's soon-to-be-launched Dream is planning to give berth space to three of LaserNet's new 5.2W RGBW ScannerPros. The mega-ship, the biggest in Carnival's fleet, will offer its guests a wide range of dining and entertainment options when it's launched this fall. Plans call for the ScannerPros to be set up with bounce mirrors in the ship's main show lounge, offering guests aerial effects and precision beam grids.
Weighing in at 89 pounds, the 25.5" x 15.5" x 10" units also feature a bright white color balance for a wider range of colors created through the Pangolin control software. They are also air-cooled and come with 80 surface bounce mirrors.
"Our chief designer, Horacio Pugliese, has created an amazing new tool for any lighting designer," said LaserNet's president, Tom Harman. "The color balance and beam quality is the best I've ever seen and as the technology is improving, so are we. Laser beams are here to stay and we plan to be in the forefront of the evolution."

For more information, please visit www.lasernet.com.
Leave a Comment: