Celebrity Apprentice to Pete's Big TVs: "You're Hired!"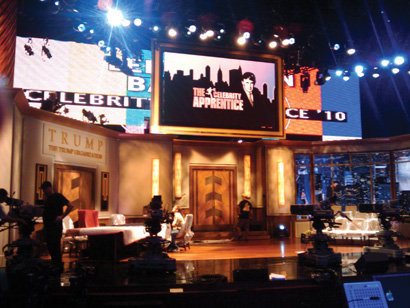 NEW YORK – Pete's Big TVs/Performance Video got hired by the producers of Celebrity Apprentice to provide three screens and crew members for taped and live portions of the NBC TV show, broadcast from New York University's Skirball Center. The main screen onstage was a Toshiba 2006 6-mm screen that measured 16 feet by 9 feet and served as a playback element to recap the season's highlights. Upstage, a GLux 37.5 mm screen measuring 16 feet by 54 feet served as a projection surface for background images of city skyscrapers and other scenic elements.
Cyndi Lauper, a "fired" participant in the season's show, returned to sing "I'm Just a Fool." To enhance her number, a GLux screen measuring 12 by 12 feet was positioned at the floor upstage.
The Pete's Big TVs/Performance Video crew included project manager Guy Benjamin with Matt Ellar and Brent Jones.
"We had to run the color and brightness at lower levels for the cameras and the lighting, and with some products, when that happens, the image quality can degrade," Benjamin noted. "But with the processing of both the Toshiba and GLux products, that quality was never sacrificed. Everybody was happy with how it looked."
Of course, the whole point of the two-hour show was for Donald Trump to choose one of two finalists as the Celebrity Apprentice. Rocker Bret Michaels – who triumphed over a brain hemorrhage and a stroke – triumphed again and was "hired."
For more information, please visit www.petesbigtvs.com.
Leave a Comment: