Celebrity Solstice Cruise Ship Using Medialon Control System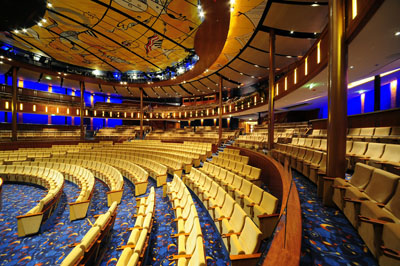 MIAMI — FUNA installed used a Medialon show and media control system for the 1,000-seat Solstice Theatre for the recently-built Celebrity Solstice cruise ship — the first of five — which sails the Caribbean with up to 2,850 guests and more than 1,250 crew members. During a cruise, the Solstice Theatre is used for live shows, some of which feature live music, dancers and other performers. The theatre is also used for crew training, cruise drills, business events and large-scale video events such as the NFL Super Bowl.
The Solstice Theatre's lighting system features classical theatrical lighting as well as HMI moving lights, followspots, fog machines and digital moving lights, all connected through an Ethernet-based lighting control distribution system. The lighting console is housed in the main control booth.
The main control booth also houses the video and show control system operator's devices, which include a collection of analog and digital sources (disc, HDD and tape-based video players, PTZ Cameras, etc.).
The video sources are all transcoded to SD-SDI and can be sent through an SDI matrix switcher to two 103-inch Plasma screens on both sides of the stage. They can also be sent to various preview monitors in the control booth and to a 12,000 ANSI lumen LCD projector, integrated in the theatre's balcony and used for various front-projection purposes on the stage. The theatre also has SDI video tie-lines coming from and going to the broadcast center so that satellite video feeds can be shown in the theatre, as with the Super Bowl broadcast, for example.
The Medialon show control system, which includes one Medialon Manager V5 Pro license, one Medialon Show Control Machine, three Medialon Manager PANEL software and three Rugboards (touch screen PCs), has be set up to be able to control the lighting, video and sound system used for the theatre.
The lighting console is connected to Medialon Manager via MIDI and timecode. The sound system is connected via timecode, serial control and MIDI, the video system uses serial and IR control.
Because cable distance was an issue in the theatre, all serial, MIDI and IR interfaces are Ethernet-based so that the Medialon Show Control Machine only houses the Medialon Manager software and a timecode board, which is connected to a timecode patch bay housed in the sound pit, located in the center of the theatre.
The Medialon system, which serves as the main control system for the Solstice Theatre, functions as a timeline-based system supplemented with touch panel-based controls. FUNA took advantage of Medialon Manager's ability to create user-friendly interface for basic show control programming, and as shows and use of the venue change over time, the clients and/or their production companies can create shows that fit their needs.
In all, the gear controlled by the Medialon equipment includes:
Video Tape Recorders (DVC Pro and HDV)
DVD Recorders
BD/HD-DVD Players
HDD Video Players
Video Matrix Switchers (SDI, RGBHV and Audio)
2x 103" Plasma screens
12,000 ANSI lumen video projector
Lighting Console
Sound Mixer
CD Recorder
Audio Effects Processors
HDD Audio Players
Digital Audio Network
Rigging System (through Timecode)
"The main challenge was to get the system running up in time during rehearsals in the theatre," said Ingo Jakobs, project engineer entertainment systems from FUNA.
"As always on a new cruise ship, the programming and commissioning time was pretty short, but it ended up being a successful approach for all participants," Jakobs added.
FUNA supplied the design, engineering, workshop work, onboard installation and commissioning of all lighting, effects, video, sound and control systems in the "Solstice Theatre" as well as the entertainment systems for all the other public venues on board, the architectural lighting systems and various security communication systems on board.
For more information, please visit www.funa.com and www.medialon.com.
Leave a Comment: